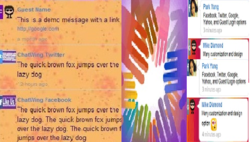 New York, NY (PRWEB) April 27, 2013
Now that the Chatwing chatroom is ready for online communities, niche exploration will become easier and manageable. The new version of the Chatwing tool has many useful features. It is now equipped with a chat network system—a feature that links the user's chatroom to other chatrooms. It is also integrated with social media, allowing users to log in with their social media accounts.
Chatwing's new chatbox also has varied customization options. The user can tinker with color schemes, styles, and other admin parameters. The developers have added many color schemes so that users can have lots of choices in making chatrooms. Users can still have unlimited chatrooms depending on his preferences.
Chatwing's developers believe that web users can explore niches well with the help of the chat tool. Users can share important information about niches and they can also share their experiences. Recently, the Chatwing Team reached out to the online business niche. The team observed that people love to ask about online business tips and proper marketing techniques. Chatwing's chat network system can help niche explorers gain the information they want. Once all chatrooms are linked under one niche, information dissemination will become easier.
Niches will continue to grow because more users are looking for data everyday. With this premise, Chatwing.com and its developers will push for newer versions of the chatroom tool. More features will be introduced to make sure that users will get the proper website chat experience that they truly deserve.
About Chatwing.com
Chatwing.com specializes in the new field of website chat. Over years, the Chatwing team has introduced live chat widget for hundreds and thousands of blogs. The Chatwing application bridges people from many parts of the world, creating global synergy through the Internet. The shout box can be installed in just seconds, and it can be used for varying purposes such as leisure and Internet marketing. It also allows a user to customize the size, color, and name of the widget. Chatwing is 100% free for everyone.