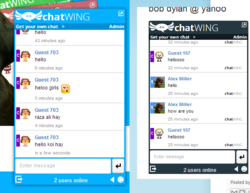 Chicago, IL (PRWEB) April 29, 2013
According to many Anime experts in the cyberspace, the cosplay niche spans over thousands of blogs and websites. This simply means that many cosplayers are looking for ways on how to discuss their craft and gather important tips. With this statistic, Chatwing.com launched the new version of its chatroom app. In this new version, cosplay afficionados can have better discussions anytime. Apart from that, cosplay website owners can use the Chatwing app to improve the online presence of their websites.
Based on the research done by Chatwing Team, normal cosplay discussions explore topics such as inexpensive costume making, cosplay events, tips, and famous Anime characters. To introduce the chatroom, Chatwing's developers talked to cosplayers and bloggers. Cosplay discussions will flow efficiently through the Chatwing chatbox because of its real-time communication process. Additionally, cosplay fans can use their social media accounts to log in.
Recently, the team added a chat network system. This feature can be accessed in the account dashboard easily. By selecting a network from the group list, the user can link his chatroom to other chatrooms. With this option, information can travel fast and users can even meet new people. For cosplayers, this simply means that there will be new friends and information regarding cosplay events.
Aside from the cosplay niche, Chatwing.com is also making a presence in business communities. Here, Chatwing's developers are sharing the importance of having a chatroom tool in a website as visibility booster.
About Chatwing.com
Chatwing.com specializes in the new field of website chat. Over years, the Chatwing team has introduced live chat widget for hundreds and thousands of blogs. The Chatwing application bridges people from many parts of the world, creating global synergy through the Internet. The shout box can be installed in just seconds, and it can be used for varying purposes such as leisure and Internet marketing. It also allows a user to customize the size, color, and name of the widget. Chatwing is 100% free for everyone.