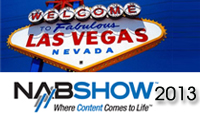 JB&A is an exceptional technology partner, uniquely positioned to bring the best solutions to content creation professionals and leverage maximum value through an integrated approach.
San Rafael, California (PRWEB) April 01, 2013
JB&A, experts in media management and IP video distribution announced it will be showcasing its complete ecosystem of products and workflows at a special two day event kicking off the National Association of Broadcaster's (NAB) trade show in Las Vegas, April 6th and 7th at the MGM Grand.
The annual event will take place at the MGM Grand Hotel Conference Center, Rooms 306-7, Saturday and Sunday, April 6th and 7th, 9am - 8pm. Technology solutions from 16 manufacturers will be displayed including Christie, Cache-A, Cambridge, CatDV, Exterity, FocalPoint, Marquis, Nevion, Nexidia, Quantum, Studio Network Solutions (SNS), Telestream, Tempest, ViewCast, ViewZ and ZeeVee.
JB&A creates end-to-end media management and IP Video Distribution solutions tailored to the custom needs of today's video professionals. An integral part of JB&A's success is its close relationship and trust from its technology partners. Working in concert with technology manufacturers [and resellers], JB&A evaluates the end-user's current and future workflow needs then designs a product roadmap including, training and support to help position them for future growth, beyond the initial installation.
"This event is a prime example of how unique JB&A is," stated Jeff Burgess, CEO, JB&A. "We are constantly bringing new and cutting edge technologies to market and with this event we tie them all together showcasing a complete product ecosystem that solves virtually every workflow need from ingest to distribution to collaboration to monetization."
Exclusively at this event, Platinum Sponsor, Christie, Inc. a world leader in visual display solutions and cutting edge projection technologies will display the new Christie® Phoenix™, a Network distributed open content management system for simultaneous encode, decode and display of audio-visual data enabling seamless access and control of audio-visual data, regardless of the user's location.
"We are excited to be a part of this special event," stated John Stark, Senior Director, Product Management for Christie's Collaborative Visual Solutions Group. "JB&A is an exceptional technology partner, uniquely positioned to bring the best solutions to content creation professionals and leverage maximum value through an integrated approach. Christie's new Phoenix live content management platform is a perfect complement to their existing ecosystem of products, we have total trust in JB&A's ability to represent, train, support and promote Christie products."
The two day event gives guests a forum to discuss one-on-one the latest product releases and new technologies with industry executives. They can get personalized demonstrations for themselves and their clients, talk with JB&A team members on how to build their strategic business model for the next several quarters, and get a sneak peak at brand new technology before it hits the NAB show floor.
To register or for more information about the JB&A Pre-NAB event visit, http://www.jbanda.com.
About JB&A
Founded in 1996, JB&A is a leader in the field of video management and distribution dedicated to bringing the most innovative and complete MAM, DAM, IPTV, Streaming and Digital Signage technology solutions to market. JB&A is a unique mix of Consultant, Channel Partner, Solutions Provider and Distributor with an ecosystem of certified, tested and proven products and workflow solutions. Staffed by industry experts, JB&A provides customized training and support guiding clients through every step of their purchase process from presale to post to future growth. JB&A -- a true Technology Partner. For more information visit, http://www.jbanda.com
About Christie®
Christie Digital Systems USA, Inc. is a global visual technologies company and is a wholly-owned subsidiary of Ushio, Inc., Japan. Consistently setting the standards by being the first to market some of the world's most advanced projectors and complete system displays, Christie is recognized as one of the most innovative visual technology companies in the world. From retail displays to Hollywood, mission critical command centers to classrooms and training simulators, Christie display solutions and projectors capture the attention of audiences around the world with dynamic and stunning images. Visit http://www.christiedigital.com.