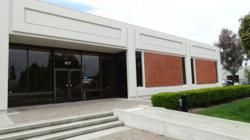 As a technology innovator, what better place to locate your U.S. Headquarters than in the heart of Silicon Valley?
Sunnyvale, CA (PRWEB) April 01, 2013
SOLiD, a publicly-traded global communications solutions innovator, today announced that it has moved its U.S. Headquarters to new offices on 617 N. Mary Avenue in Sunnyvale, California in the heart of Silicon Valley to accommodate growth. The company – which manufactures best-in-class Distributed Antenna System (DAS) solutions that provide coverage and capacity for commercial cellular and public-safety communications as well as high-capacity optical solutions for myriad communications deployments including symmetrical 1GE and 10GE links, and backhaul for LTE Small Cells, Remote Radio Heads (RRH) and WiFi Offload – has also moved its online presence to SOLiD.com.
SOLiD's new office space now provides plenty of room to accommodate the company's local employees as well as other team members throughout the U.S. and Korea who frequent the facility. The building also increases warehouse and logistical space threefold, and provides an expanded area for system configuration and order fulfillment. Each SOLiD system is pre-configured and labeled to simplify installation, while on-site inventory ensures the company is able to fulfill orders within days.
The headquarters also houses SOLiD's live demonstration showcase and SOLiD University™ training classroom. SOLiD offers basic Radio Frequency (RF) training as well as SOLiD product certification courses for SOLiD Value-Added Resellers (VARs) and Installers. The classroom enables hands-on, instructor-led training designed to deliver theoretical and practical knowledge and experience.
In addition, the facility supports SOLiD's state of the art Network Operations Center (NOC) which provides sophisticated monitoring and proactive incident resolution for DAS and Optical Transport deployments.
"2012 was a year of significant achievement and record revenue growth for SOLiD," said Seth Buechley, President of SOLiD. "The physical move to Sunnyvale and the virtual move online are key milestones which support our mission to lead the markets we serve with best-in-class products and services. As an innovator, what better place is there to be than in the heart of Silicon Valley? We look forward to embracing its creativity and energy, and becoming an active part of the community."
"I'd like to warmly welcome SOLiD and their employees to Sunnyvale," said Mayor Anthony Spitaleri." As the Heart of Silicon Valley, Sunnyvale is home to a tremendous diversity of businesses - from growing technology companies like SOLiD to research and development, manufacturing, clean tech and more - that provide jobs, keep our economy robust and invest in our community."
The physical address for SOLiD's U.S. Headquarters is: 617 N. Mary Avenue, Sunnyvale, CA 94085. SOLiD's website URL is http://www.solid.com.
SOLiD plans to host an Open House and ribbon cutting ceremony this summer for customers and partners to tour its U.S. Headquarters. A schedule of training courses will be separately made available on the SOLiD website. The company expects to launch a new website in the next couple of months.
About SOLiD
SOLiD empowers communications through innovative Distributed Antenna System (DAS), Optical Network Transport and Passive Optical LAN (POL) solutions that ensure capacity and coverage for cellular and public-safety throughout buildings, campuses and venues, enable Fronthaul / Backhaul for Small Cell and WiFi Offload deployments, and deliver carrier-grade Fiber-to-the-Room (FTTR) network capacity and reliability to facilitate next-generation voice, data and video applications such as 4KTV.
Learn more at the SOLiD website, read our blog and follow us on LinkedIn.
For further information please email info(at)solid(dot)com or call 888-409-9997.