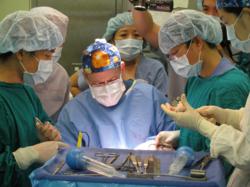 "Doing one surgery changes a face but teaching one changes the world."
Lone Tree, CO (PRWEB) April 30, 2013
Dr. Randy Robinson, his wife Ginger, and other medical professionals from the Denver area, including Dr. Kevin Patterson and his wife Ann Hovland, traveled to Vietnam in March to perform surgeries in Ho Chi Minh City (Saigon) with Face the Challenge, Inc. Dr. Robinson also presented two lectures at the 17th Annual Plastic Surgery Conference at the National Hospital of Odontostomatology. He and the team performed 34 surgeries to repair cleft lip and palate deformities, jaw tumor resections, and facial reconstructions following motorcycle accidents.
Randolph C. Robinson, MD, DDS, FAACS and his wife Ginger founded Face the Challenge in 1993. They have served in numerous countries to show Christ's love through serving the youngest and needy in developing countries and the United States. They have traveled repeatedly to Vietnam to address craniofacial, cleft palate, orthognathic, and other facial deformities. This trip was the 19th year for Dr. Robinson to travel to Vietnam. The first two days of the trip Dr. Robinson presented at the 17th Annual Conference with Dr. Nabil Samman from the University of Hong Kong and Dr. Teng from Taiwan.
Vietnam continues to grow its economy and has become one of the largest exporters of rice in the world. Many of its people, however, remain poor and underserved. The incidence of cleft lip and palate deformity is about twice that of the United States. Robinson also notes increasing cases of severe facial trauma due to increases in motorcycle ownership (a sign of increasing wealth). The helmet law requirements have not reduced the number of facial fractures the team sees on each trip according to Robinson.
There were a total of 11 team members and they operated at the two main maxillofacial hospitals in South Vietnam over a five day period. Dr. Robinson said, "Over the years the Vietnamese doctors have been able to incorporate many of the reconstructive techniques I have taught them. It is wonderful to see them performing surgery at an advanced level."
Dr. Robinson was asked to begin teaching and training surgeons at the new University Hospital in Ho Chi Minh City. Dr. Le Thi Viet said that she will be coordinating the formation of the new Department of Maxillofacial Surgery at the hospital and wants Dr. Robinson to return as a visiting professor.
Dr. Robinson received several awards on this trip on behalf of Face the Challenge, Inc.
Face the Challenge, Inc. is a 501(c)3 established by the Robinsons in 1993. It aims to show Christ's compassion to the youngest and neediest in developing countries through free facial surgeries. FTC also provides clinics and trainings to medical providers in these countries. FTC has provided over 1100 surgeries in countries such as Bolivia, Costa Rica, and China. In the USA, FTC has also provided care for patients from Mexico, the Navajo Nation, Mongolia, Kenya, Kyrgyzstan, the Philippines, China, and the USA. For more information, visit http://www.facethechallenge.org. For a detail record visit http://facethechallenge.org/about.php?page=for_the_record
Dr. Randolph C. Robinson has been practicing cosmetic, oral and maxillofacial, and craniofacial surgery for over 20 years in the Denver, Colorado area. Dr. Robinson has received numerous awards and holds appointments in various medical programs and societies. For more information on Dr. Robinson and Robinson Cosmetic Surgery, please visit RobinsonCosmeticSurgery.com or call 303-793-2828.