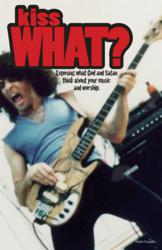 A MUST read for every Christian teenager.
Canandaigua, NY (PRWEB) April 02, 2013
Author and youth communicator Nick Costello believes, "Too many Christian teenagers today make wrong decisions that negatively affect their life because they gave into peer pressure." Respected author and youth communicator Ron Luce claims in his book Quit Playing With Fire, "Too many teenagers have lost their dreams, their goals, their future, and even their lives by doing something that a so-called 'friend' put pressure on them to do." (pg. 121) In his book Kiss What?, Nick offers many tips for teenagers to grow spiritually based on the life of Shadrach, Mesach and Abednego in Daniel Chapter 3 of the Bible. In Chapter 6 of Kiss What? Nick offers the following tips.
Tip #1: Every teenager needs to have a good godly friend to stand with them against peer pressure. A good friend will help keep someone spiritually strong, encourage them to stay committed in following God, and help pull them from dangerous relationships. It's called 'The Buddy System.' Just like a swimming coach gives new students a buddy to keep them from drowning, every teenager needs a buddy to help keep them from drowning in the dangerous waters of life, especially the waters of peer pressure.
Tip #2: Shadrach, Mesach and Abednego made a decision as teenagers they would follow God at all cost and that God's way for living was always the best way. Teenagers who have faith in God, must decide who they are going to follow. Will they choose to follow the crowd who is doing wrong or the God they believe in whose ways are always right. They must make the decision to obey God and not compromise rather than disobey God to escape rejection and ridicule.
Prior to his conversion to Christ, Nick was a secular rock star. He now speaks to people of all ages, with a focus on youth, telling his life story and helping listeners know God and become all he has designed them to be. Nick is a graduate of The Billy Graham North American Institute For Emerging Evangelists.