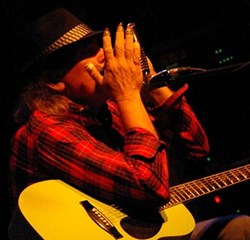 Talk is cheap and Eric Sommer doesn't need to say a thing...his musical instincts, remarkable technique, voice and lyrics say it all...
Gene Reynolds
Chicago Beat Zine
Charlottesville, VA (PRWEB) April 01, 2013
Eric Sommer finishes up a week in the Piedmont and Staunton,VA with a stop at Millers Downtown in Charlottesviille, VA. on Tuesday, April 2 at 10pm. Sommer is making his way eastward after a series of showcases in Austin, TX (SXSW), St. Louis, MO, Little Rock, AR and Memphis, TN before pushing up to New Hope, PA (April 7), Boston, MA (April 9) and Greenwich Village, NYC (April 10th).
The international release of "EUROPE, EUROPE" on Clyde is Thinking Records has brought a lot of visibility to this artist in recent weeks. The exposure has generated a lot of interest which has in turn boosted downloads and sales of other songs on the record RAINY DAY KARMA.
Slide, open tunings, all manner of innovative approaches and even some that can't be described come together at an Eric Sommer show. An artist who has been on the scene for some time, Mr. Sommer carries a lot of musical credibility. A ton, in fact. And what's even better is that he can do it, and do it all, and do it so well it hurts.
Mr. Sommer has developed a combination of techniques that are somewhat unique and their application "on-the-fly" is exploratory in the audio sense: varied tuning alterations while playing, sonorous double string drones, octave overtones with enhanced feedback manipulations, volume and tone adjustments and above the fret board tones as well as lap-slap guitar in a cyclone of sound and movement that is rhythmically dynamic, almost gymnastic.
Gearing up to record a new record in mid April back in Pittsburgh, Eric Sommer and The Solar Flares are writing and crafting a collection of love songs and urban balladeering; this tour stretches out to allow a lot of the new material to move up the set list. The new material is deeper, more pessimistic about our chances of survival and still celebrates the twists of the fates and the beauty of falling in love every day.
New shows in Chicago, Wisconsin and Minnesota are on the books for this summer as well as two more tours into Texas and California.
______________________________________
For Music Samples please visit CDBaby or Eric Sommer online for additional schedules or contact him at eric(at)ericsommer(dot)com or call 202-255-1995. Additionally, you can find Eric Sommer on Facebook, too.
Eric Sommer is represented by Clyde is Thinking, and PR programs are managed thru MTG/NY; For more information, promo/appearance requests or to set up an interview, please contact Tom Monihan 202-255-1995.