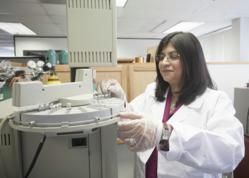 Shikha is easily the most creative scientist with whom I have ever had the pleasure of working.
Dave Karasic, Esq., Attorney
Bedford, Massachusetts (PRWEB) April 01, 2013
An interview with Dr. Shikha Barman, Chief Executive Officer and Chief Technology Officer of the startup Boston-area specialty pharmaceutical formulation development firm Integral BioSystems LLC, will soon appear in CEOCFO magazine. The focus will be on Dr. Barman's role as the entrepreneurial head of this cutting-edge drug development firm producing state-of-the-art microparticulate and nanoparticulate-based drug dosage forms, both under contract for third parties as well as for her firm's own products.
Responsible for both the business direction and technical guidance of the firm, Dr. Barman has approximately 20 years of work experience in the pharmaceutical and biotech industries in areas of drug delivery, pharmaceutical development and tissue engineering. Her interests have always been entrepreneurial, selecting the start-up venture over established companies, choosing to accept high risk in exchange for exponential professional growth usually experienced in innovative product development.
Also an artist and musician, Dr. Barman has always been fascinated by the considerable overlap in the creative process required in both the arts and the hard sciences. In particular, she perceives a similar need for creativity in the endeavors, there being considerable overlap between the processes of producing a work of art and a novel drug delivery formulation.
Her initial major contributions after completing her dual-Ph.D. program in Chemistry at the University of Massachusetts in Lowell, Massachusetts were at the startup biomaterials firm Focal, Inc., where she invented novel approaches and made creative contributions to the design and development of a platform technology of PEG-based photocrosslinkable, biodegradable tissue sealants, the entire line of which was acquired by Genzyme BioSurgery. She has also contributed to core intellectual property in subsequent positions at the startup firms Zycos, Inc., Sontra Medical Corporation, Inotek Corporation and Follica, Inc. Her roles have been increasingly multidiscipline with each successive company that she worked in, with cross-functional job responsibilities in CMC, pharmaceutical development, preclinical and toxicology.
The Company has developed numerous dosage forms for ophthalmic, oral, sublingual, intranasal, IV and transdermal routes. Integral BioSystems has a translational approach to drug development, customizing delivery systems to achieve the biologically effective objectives of the therapy. Dosage forms are customized to achieve sustained release or targeted, tissue-focused delivery or fast-release/instant delivery, depending upon the desired product attributes.