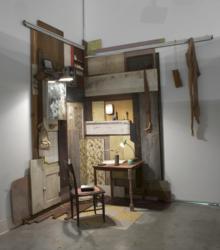 "This body of work investigates the intrinsic nature of painting & installation as a means of developing a story."
New York, NY (PRWEB) April 04, 2013
The Art Lofts Gallery at the University of Wisconsin-Madison will be filled with the imaginative works of contemporary artist, Jack O'Hearn IV, now in his final year of the MFA program there. This exhibition titled "Contact" will be shown from April 6th until April 11th and also hosted online by Artzizzle.com. A video interview produced by ArtzizzleTV will be viewable on YouTube after April 9, 2013.
According to O'Hearn, "This body of work investigates the intrinsic nature of painting & installation as a means of developing a story. It focuses on imaginary places beyond modern civilization, inspired by popular stories of marooning, piracy, children's fantasy, & indigenous peoples." Although he invites the viewer to form their own narrative based on the imagery given, he warns us that " It's a world based on my own desires and fantasies that are in no way representative of reality, but are rather inspired by a lifetime of elusive and intangible depictions." O'Hearn describes the exhibition as "a type of 'choose your own adventure tale'," which provides the opportunity for viewers to consider the associations they're making as an avenue for self-reflection.
Of such images one will experience is a painting of a mask made from a coconut shell and shark's teeth hanging on a warm white wall that appears to have spewing gold stripes racing across it. Directly above lay the words "The Hunted," with the illusion of having been tediously crafted in masking tape. O'Hearn excels at the traditional technique of trompe l'oeil to create convincing optical illusions in his paintings. However, the way in which he applies the technique to the conceptual framework of the exhibition is anything but traditional. That being said, if one is not enticed into imagining their own narrative, one can simply marvel at the incredible attention to detail O'Hearn pays to every square inch of anything he makes.
The installation piece is as meticulous as the paintings. For this exhibition, O'Hearn has used approximately 5 square feet of wall space in a corner of the gallery to create a life-size maquette of a shanty-style dwelling. Amongst the geometric arrangement of salvaged lumber, vintage wallpapers, and linoleum tiles are many object that add ample detail to the narrative. A hand-carved wooden pipe sits on a shelf above a table and chair that have undergone minor repairs. On the table lies two vintage desk lamps, one providing light, the other refitted with a magnifying glass: tools used to examine the skeleton of a small mouse. All the while, an old transistor radio plays a constant static that seems to be picking up different radio waves, as voices and music come fluttering in and out.
Jack O'Hearn is a contemporary artist working in painting, sculpture and installation. He has recently been producing thematic bodies of work that touch on issues of social and cultural understanding. He is currently enrolled as an MFA candidate at The University of Wisconsin, Madison, where he is also the instructor of record.
For more information about this exhibition visit http://www.Artzizzle.com, a contemporary art website for both novice and seasoned art collectors offering the tools and resources necessary to successfully build a valued art collection online. Twitter: https://twitter.com/artzizzle. Youtube: http://youtu.be/WYlhDzl5N7I