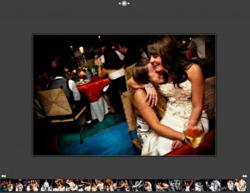 Palo Alto, CA (PRWEB) April 08, 2013
DigiLabs Pro, a leader in professional photographer's web gallery services, has released a new web solution for professional photographers' websites & galleries. The new partnership with Wix, web design provider, enables photographers to create websites in HTML5 and integrate DigiLabs Pro web galleries for commercial use.
This integrated solution will enable photographers to offer proofing, album selection and selling images to clients, all from their studio website. This offers the most robust and advanced solution to create professional websites and web galleries.
The website is created using Wix.com, a cutting-edge web technology that is easy to use. Wix users design, publish and host HTML5 websites for zero to low cost. Key features include: Hundreds of HTML 5 templates designed specifically for photographers; Search Engine Optimization tools that enable photographers to be found via search engines such as Google, Yahoo and Bing; and easy integration of their DigiLabs Pro galleries into these templates.
Photographers can customize their websites to fit their own unique brand and style, which has always been mission critical in DigiLabs Pro solutions.
Key features of DigiLabs Pro galleries are:

Flexible Web Gallery Options for online image hosting, order fulfillment and charging functions
Low monthly plans with unlimited data storage
Free backup and archive of images
Digital delivery and fulfillment
Five-layer custom security features
Robust back-office and gallery administration tools
As an added bonus, photographers using the integrated solution receive discounts on prime packages.
"Many photographers enter the professional market each year, and this requires us to address the website aspect of their set up" explains Bryan Passanisi, DigiLabs Pro Marketing Manager.
"Wix has 30 million users worldwide and a set of remarkable design tools that will aid any professional photographer. With the integration of Wix and DigiLabs Pro we hope to create an all inclusive package that will help starting professional photographers stand out to sell their photographs," Passanisi said.
For more information on this service and our special offers available http://www.digilabspro.com/web-galleries/wix.shtml