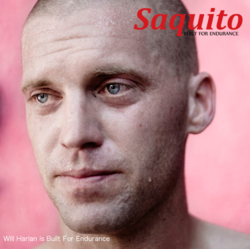 he's a great guy, an amazing athlete, and he cares about the Tarahumara, the source of inspiration for our product
Palm Beach Gardens, FL (PRWEB) April 01, 2013
Saquito Mix LLC has brought ultra runner Will Harlan onto their team of endurance athletes. Harlan a seasoned ultra runner, won the 2009 Caballo Blanco 50 mile ultra marathon in the Copper Canyons Mexico, the race made famous by Christopher McDougall's best selling Born To Run.
Harlan will represent the brand at race events and help build awareness about the chia energy mix product developed by Saquito Mix LLC.
"We are really happy to have Will on our team of athletes, he's a great guy, an amazing athlete, and he cares about the Tarahumara, the source of inspiration for our product and a source of inspiration for endurance runners around the world. We couldn't be happier," explains Zach Azeez Founder and CEO at Saquito Mix LLC.
When Harlan isn't training and running he's operating his off the grid sustainable farm in Asheville North Carolina and doing service work for the Tarahumara via his nonprofit organization Barefoot Seeds, a registered 501(c)3.
Harlan is the first ultra runner to join the diverse team of Saquito's endurance athletes which currently includes a marathon runner, and iron man, a professional surfer, a professional kiteboarder, a professional snowboarder and professional skiers.
Saquito was founded in 2012 and is the producer of the world's first chia energy mix - a unique blend of superfoods consisting primarily of chia seed, with an overall low sugar content, packaged in 40g units, and packaged in a resealable biodegradable plastic sleeve.  Saquito Mix LLC is based out of Palm Beach Gardens, Florida.