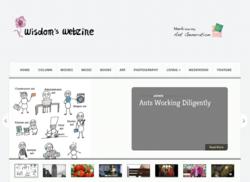 One who has wisdom is one who lives as one with the world and with others.
Dallas, TX (PRWEB) April 05, 2013
"Not one person can have all of the wisdom in the world," says an old African adage.
When one has true wisdom in his or her mind, not only can decisions be made wisely for self-betterment, he or she can share it with the world.
Cham Books, publisher of many books about wisdom written by Woo Myung, the founder of Maum Meditation, is proud to announce the birth of Wisdom's Webzine.
Wisdom's Webzine is a monthly web-based magazine featuring informative content covering a wide variety of topics that helps to serve the interests of a wide spectrum of people.
Featuring content that covers movies, music, books, current events, art, photography, living and lifestyle, and even viral sensations on YouTube, the readership continues to grow by word of mouth.
From coverage of the 2012 motion picture "Cloud Atlas" to exclusive stories and interviews of successful people, effective body detoxification methods, and Swedish crayfish and shrimp sandwiches, to the Harlem shake – all content is incorporated with wisdom that inspires one to live wisely.
The webzine also gives the opportunity to share the wisdom with others.
Insight can be gained from the stories of legends who have come and left this world. Alexander the Great notoriously commanded his messages to the common man, "Even, I, the Great King who unified Europe, goes empty handed when I die." (Excerpt from "Wisdom of Alexander the Great" in the Column section).
The Norwegian Ramen King, Mr. Lee' Chul-Ho Lee, who long ago had immigrated to Norway empty-handed says, "The conviction I have always had for work is to be sedulous. Even when I had to wash a dish, even when I peeled a potato, I tried to do with all my heart and wanted to do more than I was ordered." (Excerpt from "Let's Learn to Have Patience like Chul-Ho Lee, CEO of Mr. Lee" in the Column section).
A healthy body and healthy mind come hand in hand. Wisdom's Webzine features a simple trick that can help one to keep the body functioning in excellent shape.
"Little biology lies behind this juice. That is, only 5% of the nutrients are absorbed in the body when taking fresh vegetables, whereas 90% remain in the body when boiled or squeezed…" (Excerpt from "Detoxification Juice" in the Living section).
If the weight of the world on the reader's shoulders is bringing that person down, he or she can try taking a walk through the hope-filled inspirational story of Aron Ralston.
"Trapped, he came to grips with the situation, realizing that there was no possibility of anyone saving him. One thought that crossed his mind while trapped and scared out of his mind was that he would just have to wait for death." (Excerpt from "This Accident was a Blessing" in the Movies section).
Relating one's current situation or problems to someone else's struggles is a great way to help in finding a solution. Wisdom's Webzine includes the life experiences of many people that can help the reader.
One who has wisdom is one who lives as one with the world and with others. Wisdom's Webzine inspires wise living.
The beautiful writings and content of this down-to-earth webzine will heal the mind with insight on different subjects and soothe the senses into living a life of wisdom.
There is only one world, yet every individual lives separated inside of his or her own mind world – inside of one's own human conceptions, the human mind.
The human mind is an accumulation of pictures that one has taken throughout their entire life, which dictates one's thoughts and actions. Disagreements and conflicts among personal and even worldly affairs root from this self-centered mind.
In other words, one who is wise will know that what one puts in is exactly what he or she will get out of a given situation. There are opportunities everywhere, but according to the Laws of the Universe, only those who initiate the cause will see the effects.
Wisdom's Webzine is available in English, Italian, Spanish, German, French, Chinese, and Japanese.