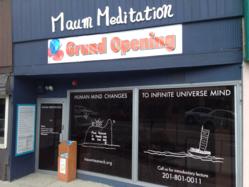 Our mission is to guide the students to completion so that their entire stress world disappears.
Teaneck, NJ (PRWEB) April 05, 2013
After some renovations, Teaneck Maum Meditation celebrated their much anticipated grand opening.
Located in Teaneck, New Jersey, the helpers bring over 15 years of combined guiding experience to this second New Jersey Maum Meditation Center.
"We view this center as a place for people to go to rest their minds and throw away their stress," said Jon Miller, a volunteer helper at the center.
"Our mission is to guide the students to completion so that their entire stress world disappears. We know that people have been waiting for something like this for a very long time."
With an increasing number of people searching for enlightenment and peace of mind, it is no wonder that Maum Meditation centers are growing at a rapid rate.
"People lived inside their stress and until this last decade, didn't have a way to truly escape it," Jon explained.
Now with this method of subtraction, more and more people will be able to achieve true peace of mind.
It has already been a great blessing to many thousands of people who were able to achieve human completion through this method.
The Teaneck Maum Meditation center is open seven days a week from 9:30 a.m. until 11:30 p.m.
Meditators are welcome to meditate as long as they wish during these hours.
Throughout the coming year, many centers are expected to open worldwide.
Recent openings in the U.S. include:
Bayside Maum Meditation Center
Bayside, New York
Fort Worth Maum Meditation Center
North Richland Hills, Texas
About Maum Meditation
Maum Meditation was founded in 1996 by Woo Myung. Located all around the world with more than 340 centers and more than 300,000 people practicing the method, Maum Meditation has already been a sensation across many continents.
Maum Meditation is a simple method of subtraction that allows one to become free of the stressful mind by changing the human mind to the infinite universe mind.