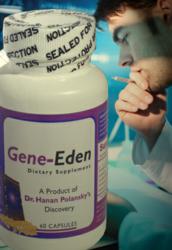 The fact that nature has given us an all natural ingredient that has scientifically been shown to combat both herpes as well as prevent other cognitive problems is amazing. - Mike Evans
Rochester, NY (PRWEB) April 01, 2013
polyDNA researchers have linked the ingredients of Gene-Eden-VIR, an all natural, scientific herpes remedy, with an improvement of cognitive functions. While conducting research into herpes related illnesses, polyDNA found that women with a herpes type 1 infection have a significantly higher risk of developing memory problems and other cognitive issues. [1]
This is even more noteworthy since "60 percent of U.S. men and women between the ages of 14 and 49 carry the herpes simplex type 1 virus." [2]
Cinnamon is a natural antiviral. [3] Moreover, cinnamon has also been found to naturally boost memory and other cognitive functions by inhibiting tau aggregation and filament formation, which are hallmarks of Alzheimer's disease (AD). [4]
Gene-Eden-VIR's all natural ingredients include cinnamon. In fact, Gene-Eden-VIR contains five all natural antiviral ingredients including cinnamon, selenium, quercetin, and licorice extract.
Mike Evans from polyDNA said "The fact that nature has given us an all natural ingredient that has scientifically been shown to combat both herpes as well as prevent other cognitive problems is amazing. It's even more amazing since herpes can also cause brain problems. When we developed Gene-Eden-VIR, we knew we wanted it to be a natural remedy with as broad an application as possible. This research shows exactly how Gene Eden can take on two seemingly unrelated illnesses, focus on the source of those illnesses, and then work to combat those illnesses' origin."
The public should be aware of the relationship between herpes and cognitive problems and take steps to prevent those problems from arising. polyDNA recommends boosting the immune system against a latent herpes infection through the use the all natural herpes remedy, Gene-Eden-VIR.
A recent post marketing clinical study showed that Gene-Eden-VIR is effective against the latent herpes virus. By helping the body's immune system target the latent herpes virus, people also lower their risk of developing fever blisters, cold sores, or genital herpes symptoms. [5]
Gene-Eden-VIR is highly effective against the latent herpes virus, each ingredient was chosen through a scientific approach. Scientists scanned thousands of scientific and medical papers published in various medical and scientific journals around the world to identify the safest, most effective natural ingredients that target the latent forms of both HSV-1 and HSV-2. [6]
To learn more about Gene-Eden-VIR, visit http://www.gene-eden-kill-virus.com.
References:
1: Infectious burden and cognitive function
2: For Many, Herpes May Cause Memory Loss Along with Cold Sores
3 : In vitro and in vivo activity of eugenol on human herpesvirus
4 : Cinnamon extract inhibits tau aggregation associated with Alzheimer's disease in vitro
5 : Gene-Eden-VIR is Antiviral: Results of a Post Marketing Clinical Study
6 : The antiviral effect of Gene-Eden
polyDNA is a biotechnology company that develops dietary supplements using the unique scientific method developed by Dr. Hanan Polansky, which is based on Computer Intuition.
In addition to his unique scientific method, Dr. Polansky published the highly acclaimed scientific discovery, called Microcompetition with Foreign DNA. The discovery explains how foreign DNA fragments, and specifically, DNA of latent viruses, cause most major diseases.
polyDNA developed Gene-Eden-VIR , an antiviral natural remedy that helps the immune system kill latent viruses.