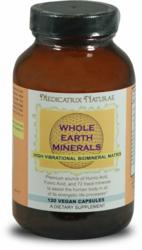 Humic acid and fulvic trace minerals have amazing health benefits for the human body.
Schaumburg, Illinois (PRWEB) April 02, 2013
Natural Health experts over the world have been fascinated by the potential health benefits of humic acid and fulvic acid for some time. Raw foods guru David Wolfe commonly refers to fulvic acid as "the magic" and a "bad calcium dissolver." Scientist Richard Laub has published extensive research through the National Institute of Health.
Now, Medicatrix Naturae brings forth Whole Earth Minerals, an amazing holistic complex of trace minerals containing natural humic acid, as well as fulvic acid, in their natural organic form. Rather than a lqiuid, which can often be very dilute and watered down, Whole Earth Minerals is made available as a complete living biomineral complex in vegan capsules.
Fulvic acid and humic acid have myriad health benefits. One of their primary purposes is to help escort mineral elements in and out of cells of the body. They can also form poly-electrolyte complexes, facilitating the transmission of electrical signals between cells within the human body. These properties make them potentially extremely useful as a dietary supplement, providing the 'missing link' in many different body processes and for the creation of energy.
Whole Earth Minerals is exclusively distributed by The Food Movement Company, a raw super foods company based in Schaumburg, Illinois. The Food Movement was previously the first company to bring Vegan Vitammin D3 to the US health food store market. To receive more information on how to purchase Whole Earth Minerals call 855-MY FOOD-55 for more details or ask for it by name in your local health food store.