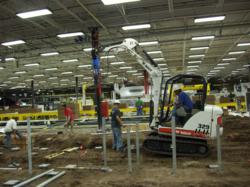 The competitive advantage is what moves our foundation repair company away from the competition.
Orlando, Florida (PRWEB) April 02, 2013
Rick Fender of Cloud 9 Services, Inc., a Chance Alliance Network member and Certified AB Chance helical pile contractor attended the meeting and shares this story. The meeting opened with Mr. Bill Tolley, the Hubbell Power Systems President speaking on the improving economy. Mr. Tolley stated "last year's economy improved but was lethargic." Given that tepid financial news, Mr. Tolly stated "Hubbell had a record year last year." Hubbell is a 3 billion dollar a year company that is the parent company of AB Chance, the leader in helical piling and foundation repair. Hubbel is a debt free very strong company with 16% per year sales growth, Mr. Tolley explained.
Next to speak was Mr. Bill Hains, the Hubbel Power Systems, Inc. Division Vice President in charge of AB Chance. Mr. Hains explained the structure of the organization and the opportunities that the dealers have in gaining access to the advertising design portal at the AB Chance website. This design portal gives AB Chance dealer several marketing tools to spread the good word of AB Chance through TV, radio, print and web advertising.
The Chance Alliance Network's next speaker was Ms. Jaynie Smith, an author, an international public speaker and CEO of Smart Advantage. Ms. Smith instructed he group of foundation repair contractors regarding the latest tools for creating a competitive advantage. The competitive advantage is what moves one contractor's foundation repair company away from and ahead of the competition. Ms. Smith explained that company represntatives must show potential customers the real differences between Cloud 9 Services, Inc. backed by AB Chance and Hubbel compared to the competition. This may not be the same factors that some foundation repair contractors consider important. Contractors must understand what it is that the customer really wants and what is most important to them.
Rick Fender explained "the factors that we consider important to a customer deciding to hire Cloud 9 Services, Inc. for their foundation repair include the 30 year AB Chance warranty, the proper contractor licensing, the proper insurance to protect employees as well as the customers, the AB Chance Certification and the 12 years that Cloud 9 Services, Inc. has been in business."
"It may be that the customer holds the fact that Cloud 9 Services, Inc. has been a member of the Better Business Bureau for years without a black mark as the most important factor in deciding to trust them and select Cloud 9 Services, Inc. as their foundation repair contractor," Fender explained.
"One of the most important things that separate Cloud 9 Services, Inc. and AB Chance from the foundation repair and helical pile contractor competition is the 30 year Peace of Mind Warranty," said Fender. "Unlike the "Lifetime" warranties offered by the competition, the AB Chance 30 year warranty is for a true 30 years. Further, the AB Chance warranty is backed by a $3,000,000,000 a year solid company", Rick Fender stated. "What I didn't understand until this conference is that a "Lifetime" warranty is not for a lifetime" Fender explained. According to Answers.com, "unless specifically noted otherwise, the lifetime of a product in some states can be as little as 3 years."
Cloud 9 Services, Inc. is a Florida State Certified General Contractor and an AB Chance Certified Foundation Repair specialist located at 1201 West Jackson Street, Orlando, Florida 32805. Rick Fender and his wife and President of Cloud 9 Services, Inc. Lucy Fender began in 2001. They can be reached at 407-481-2750.