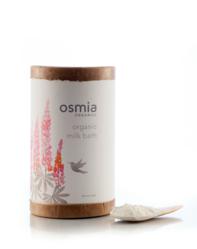 Carbondale, CO (PRWEB) April 02, 2013
Osmia Organics, a new line of natural and organic soap, skin care, and perfumery, has published an article about natural bath enhancements. The company, founded by Dr. Sarah Villafranco, is focused on bridging luxury skin care with environmentally-conscious ingredients and packaging. Dr. Villafranco's philosophy is that natural skin care does not need to feel less luxurious or be any less effective than the top, mainstream products, most of which are filled with chemicals that are increasingly being shown to have negative, sometime serious, health effects.
In the article, Dr. Villafranco explains how the bath is an especially important place to avoid the use of these types of toxic chemicals. One reason explained is that the absorption rate of the skin, the body's largest organ, is substantially higher when immersed in warm water, due to peripheral vasodilation. This increase in absorption applies to anything in the bath water or applied to the skin after a warm bath, whether natural and beneficial or synthetic and potentially detrimental. Another point of consideration is the large quantity of water used in a bath: if the bath water is full of sulfates, phthalates, and ethoxylated compounds, those compounds end up in the water treatment facilities or septic fields, where they have been shown to have harmful consequences for humans, plants, and wildlife.
She goes on to explain that while the bath tub is an especially bad place for chemicals, it is an especially good place for organic and botanical enhancements. The article outlines some of the options for taking a natural bath, including salts, milk, herbs, oils, and essential oils. Most people know about bath salts, but perhaps don't understand the mechanism by which they replenish moisture in the skin, which is explained in the article. Using milk and herbs in the tub are less common, but equally effective, ways to add nourishing qualities to the bath water. The addition of essential oils and dried botanicals add an aromatherapy component, as well, resulting in a relaxed mind in addition to softer skin and happy muscles.
For more information about using environmentally-conscious skin care, and to learn more about how to make a luxurious, natural bath, visit http://www.osmiaorganics.com.