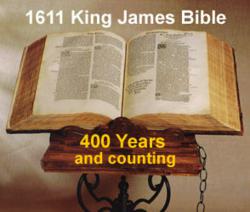 The Story of the King James Bible and How We Got Our First Bible In English.
Los Angeles, CA (PRWEB) April 01, 2013
Most people today take the Bible for granted and don't know the history about the great number of people who were killed in the process of publishing the first English Bible.
Since the King James Bible was first published in England in 1611, there have been dozens of various English translations done based upon the original. However, just like the original apple pie made by grandma, none of the others taste "quite" the same. So it is with all the other Bible Translations, none "quite" compare to the original King James Bible.
The 28 minute video, which is posted on this page, tells the dramatic story of how the first English Bible was published. Many users have said they had no idea that thousands were killed and martyred in 14th and 15th century England for either speaking or writing words from the Latin Bible in English. What was the form of England's capital punishment in those days? It was burning at the stake and it was a horrible form of Capital punishment.
Users have asked, why were people burned at the stake for speaking or writing words from the Latin Bible in English? That's a good question and the answer is, because at the time the Church of England and the Government of England did not want a Bible to be published in English. So a law was passed making it a crime punishable by death to speak or write words from the Latiin Bible in English. During those 200 hundred years from 1400 t0 1600, thousands were killed for violating that law including men, women and children.
This 28 minute video documentary dramatically and vividly tells the story of the
courageous people like John Wycliffe and William Tyndale who were burned at the stake in the process of publishing a Bible in English.
The documentary was shot on location in England and viewers are taken on a tour to the historical places where history was made. The viewer is shown where the translation work was done, how the English Bible was printed and distributed and where people were burned at the stake when caught.
Users have written stating that Churches have shown this video to educate their parishioners about the origins of our first English Bible and the sacrifices made to print the first English Bible. Users have also reported that this 28 minute video was the best video ever produced and gives the viewer a new appreciation for the King James Bible.
Litchfield Associates recently has taken a poll of over 1 million users of the Scourby Audio Bible App and Mp3 Bible narrated by Alexander Scourby, on a number of topics, and is releasing the findings as they are written. This is the latest and more will be released soon.
The 28 minute video of story of the King James Bible is posted on this page, just click and play. Please send us feedback since it's important to hear back from our users. Just send an email to info(at)scourby(dot)com