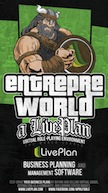 ...like Tron, but with better graphics and significantly more vikings.
Eugene, OR (PRWEB) April 01, 2013
Palo Alto Software is excited to announce the upcoming launch of the first interactive, virtual world populated wholly by entrepreneurs. EntrepreWorld, a LivePlan virtual role-playing environment, will allow LivePlan subscribers to put their business plans to the test in a virtual world of avatars, small and mid-size businesses, and community socialization spots.
Users are tasked with pitching to virtual investors within the world. Once funded with EntrepreBucks, they are then able to build their virtual business in line with their business plan. Other users may then patronize the small business in order to test its viability, purchasing virtual bagels from virtual bakeries, getting virtual tattoos, and having their virtual taxes done by virtual accounting firms. Users earn merit badges to display on the walls of their virtual establishments. For example, the "My First Dollar" merit badge is among the first earned and displayed.
"It's all very scientific," explains Palo Alto Software COO, Noah Parsons. "We've married the best parts of gaming and technology to create a virtual environment in which entrepreneurs can test-drive their business plan ideas and crowd-source feedback from among their peers. The ability to create custom avatars in their own likeness or pick from a library of pre-constructed avatars including Classic Businessman, Classic Businesswoman, Boy Hipster, Girl Hipster, Androgynous Hipster, and Angry Viking adds an element of whimsy, as do the merit badges."
Palo Alto Software's business development lead, Peter Thorsson, finds the virtual world a little too mundane. "I tried to convince them that users should be able to steal each other's vehicles like in Grand Theft Auto or create virtual crime empires, but no one would listen to me," he said. "I also feel that the 'Angry Viking' avatar presents an insensitive stereotype of my people," he continued, "which is why I opted for the 'Androgynous Hipster' persona, but customized it with a vintage Lacoste sweater."
Sabrina Parsons, Palo Alto Software's CEO, weighed in on the launch of the virtual environment, "LivePlan has always been global but this takes our business planning and tracking tool into a whole new realm -- like Tron, but with better graphics and significantly more vikings. We're helping businesses impact the EntrepreWorld virtual economy; they can then take what they learn in virtual space and apply it to the real world. It's unprecedented."
About Palo Alto Software, Inc.
Palo Alto Software, Inc., makers of the #1 selling business planning software in the world, develops and publishes tools, products, and content to help small and midsized businesses plan, pitch, manage, and grow their ventures. LivePlan, the company's flagship product, is a SaaS (software as a service) solution for business planning and financial management. Palo Alto Software has been the market leader in its category for over 15 years, has served well over 1 million entrepreneurs, and has customers in 180 countries. Founded in 1988 by business planning expert Tim Berry, the company's CEO since 2007, Sabrina Parsons, successfully expanded its service offering into the cloud (the LivePlan product currently serves over 60,000 small and mid-sized business customers). Palo Alto Software is a privately-owned corporation based in Eugene, Oregon. For more information visit http://www.paloalto.com.