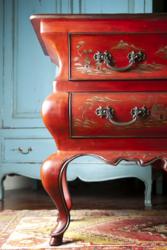 "I am very excited to attend this conference and to have an opportunity to introduce our company to the NAPO Members.
Arlington, Texas (PRWEB) April 02, 2013
NAPO is an organization with over 4000 members nationwide dedicated to helping individuals and business bring order and efficiency to their lives. They are expecting over 1000 of their members, along with over 50 Exhibitors to attend this years Conference in New Orleans on April 17-20.
Professional Organizing is a growing industry brought on by demands of our fast pace society. Organizers provide a wide range of services from designing an efficient closet to organizing a cross-country move.
The familyestatesale.com web-site was conceived and designed to help individuals find resources when they are faced with the daunting task of downsizing or liquidating an estate. The FESS mission is to providing estate liquidation solutions, to families and individuals during difficult times and believes that NAPO Members will play a big part in fulfilling that mission.
Chris Gross, Founder and Managing Member of FESS said, "I am very excited to attend this conference and to have an opportunity to introduce our company to the NAPO Members. I would like to get their feedback on our site, which was launched in January of this year. I am especially excited to get their opinion, on what we consider our premier feature, our Family and Friends Private Auction."
Family and Friends Private Auction was designed for families and friends who are scattered around the country, and are often are unable to preview the estate and decide what they would like to keep prior to a public liquidation. In the password protected Family and Friends Online Auction, photos can be posted of individual items and invitations sent out to family and select friends to view and participate in the private online auction. Invited participants can then bid on the individual items they want to purchase. During the bidding process no one will know who is bidding on the items. At the end of the auction, proceeds can be distributed equally among heirs or be used to pay final expenses.
FESS offers a searchable list of national and local liquidation professionals, and lists announcements of local estate sales throughout the US; as well as, Public and Private Online Auctions. FESS provides services that can assists in every type of estate liquidation.
FESS will be offering special member promotions at the four day conference. If you are a NAPO Member but will not be attending the conference this year, you can contact Chris Gross at chris(dot)gross(at)familyestatesale(dot)com to see how you can get a free trial membership.