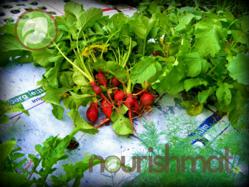 Washington, D.C. (PRWEB) April 04, 2013
Earth Starter, based in Frederick, MD, is initiating a Kickstarter campaign this April to raise funds in order to roll out as many Nourishmat gardens in backyards and other growing spaces across the United States. This past January, the company released their product to customers for the first time since launching the Nourishmat to beta testers across the country on Earth Day 2012. As the company approaches the one-year anniversary of the founding of what has been dubbed a "Nourish-Movement," Earth Starter has accomplished many of its business goals and objectives. One year after the launch of their product to beta testers, the Nourishmat team is taking the lead on an exciting Kickstarter campaign that the company hopes to raise enough money during in order to spread the Nourish-Movement far and wide.
The ultimate goal, however, is to be able to provide more Nourishmat garden systems to the product's growing fan base. Potential users of the Nourishmat span all demographics - the young and the old, the experienced and inexperienced with gardening, educators and students. Earth Starter's key objective is to help provide a practical, environmentally friendly solution to the one issue that the company sees as one of the most pressing in this day and age: food supply.
The Nourishmat, a four by six foot fully-irrigated food and flower gardening blanket that virtually eliminates the need to spend time pulling weeds and allows for regulated, regimented watering that conserves up to 70% the water used compared to traditional gardening, is the flagship product of Earth Starter. A combined effort of two University of Maryland alumni, this driven and innovative startup with a firm rooting in the greater Washington, is one of six finalists in Cupid's Cup, the small business and entrepreneurial competition funded by Kevil Plank, founder and CEO of Under Armour, and sponsored University of Maryland's Dingman Center for Entrepreneurship. Kevin Plank is an alumnus of the University of Maryland. Earth Starter's dedication to environmental sustainability, healthy eating and empowering new gardeners, combined with its innovative team of employees, has given the company the positive momentum to break into the marketplace with gusto and passion
In March, Earth Starter participated in a week-long Groupon Grassroots fundraising campaign to be able to underwrite the cost of their product so that as many as possible could be donated to food pantries and other anti-hunger organizations across the Washington metro area. Through a grassroots partnership with the Capital Area Food Bank in D.C., Earth Starter will be able to provide their simple gardening system to many underserved individuals that frequent a small number of the food bank's approximately 700 partnership agencies.
To keep up the positive momentum, and to ensure that funding for more products to be distributed to consumers, Earth Starter is running a Kickstarter campaign this April. This American made product, manufactured in Frederick, MD, along with its "seedballs" that take the guesswork out of sowing seeds, has the power to bring all of the benefits of food and flower gardening to those who lack a green thumb. Those who give to the campaign will receive one of any number of prize packages from the company, including their flagship Nourishmat garden system complete with seedballs.
About Earth Starter and the Nourishmat:
Nourishmat, developed by Earth Starter, LLC, is an innovative gardening product geared towards empowering people to grow their own food. The design and construction of Nourishmat takes the guess work out of gardening. The Nourishmat, which was officially launched on Earth Day 2012, features built-in irrigation, custom-made seed balls and crop-specific spacing guides printed on a weatherproof weed barrier. The product, the only one of its kind on the market, serves as a tool to help busy humans supplement their diets with healthy, homegrown produce and to promote food growing in their communities. To learn more, visit http://www.nourishmat.com.
###