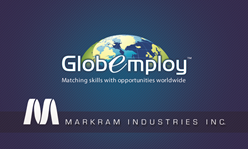 Working with individuals who possess multiple skill sets is the dream of any employer.
Montreal, QC (PRWEB) April 04, 2013
Globemploy, one of the world's foremost players in the field of labour solutions, is utilizing a new and innovative approach that gives job seekers from around the world the opportunity to take full advantage of the skills mismatch dilemma currently at large in today's job market. The labour firm is now allowing individual users to develop and manage multiple job profiles using their newly updated website.
With technology evolving at a breakneck pace, it is not uncommon for a single person to possess multiple (and diverse) skill sets. It is with these people in mind that Globemploy has opened the door to allow these people the opportunity to present themselves to multiple potential employers for numerous job opportunities. From web developers who are also trained in graphic design to accountants with a flair for risk management, traditional singular labour profiles simply do not offer the complexity and depth required to truly reflect an individual's range of expertise.
By allowing job seekers the ability to highlight their specific skill sets to specific groups of potential employers, Globemploy is ensuring that no stone is left unturned in the search for the next great opportunity. With its longstanding track record in the field of international hiring, Globemploy has developed a reputation as one of the world's true leaders in overcoming the social and cultural boundaries that often inhibit overseas opportunities. Their unique matching method evaluates soft skills and personal values in addition to traditional hard skill sets, experience, and education, allowing their clients to rest comfortably knowing that they are hiring a well-balanced and well-rounded individual capable of becoming an integral and permanent part of their organization.
From establishing long-term working relationships to locating the perfect person for one specific contract, working with individuals who possess multiple skill sets is the dream of any would-be employer.
As the world continues to embrace the restructuring of traditional job roles, more and more companies have turned to the international labour market to find their next great talent. As technology evolves, the world will continue to become smaller and smaller, meaning those who are able to stand out on the global stage will surely be the most successful in their bids to find the perfect working situation.
With Globemploy's unique approach to labour profiling, both employers and employees stand to gain greatly from the insightful and intuitive approach that multiple profiles have to offer. Simply put, more information - and better information – is an approach that helps everyone.