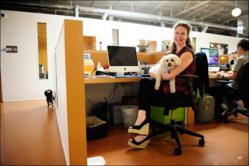 Owners and their employers are responsible for how dogs act and react to the customers and co-workers who may unwittingly provoke them.
Falmouth, MA (PRWEB) April 02, 2013
Author and dog bite prevention specialist Melissa Berryman of the Dog Owner Education and Community Safety Council warns that bringing Fido to work can unleash unforeseen liability problems. She points to Frankie, a 10 lb Yorkshire Terrier, who is now looking for another home after his owner Susan C. made a habit of taking him and her other dog to her business. Susan got the shock of her life after Frankie nipped an employee and both her business insurance and her homeowner's insurance were canceled. Both insurances may be reinstated with additional fees providing Susan no longer owns Frankie. Susan's family is devastated to lose their beloved pet.
Although studies show that taking dogs to work can improve productivity and moral, few owners and employers consider the liability risks. Any incident between people and dogs in the workplace can lead to lawsuits and the cancellation of insurance for both the dog owner and business owner.
"There are a lot of dog owners who believe their dog will simply lie underneath their desk, needing attention only at lunch time or on their break. In reality, it's difficult for dogs to cope with the comings and goings of customers and co-workers. Usually the dog is in a tight space and can feel cornered. Owners often leave their dogs alone to contend with customers or co-workers never realizing that people provoke dogs without intending to. The bottom line is dogs need oversight and the dog owner's attention is on their work. To protect liability risk its best to leave dogs home or at a daycare facility," advises Melissa Berryman of the Dog Owner Education and Community Safety Council. "Many incidents are simply due to the miscommunication between dogs and people. The stakes are losing the dog and your insurance."
Berryman is the author of People Training for Good Dogs-What Breeders Don't Tell You and Trainers Don't Teach and the founder of The Dog Owner Education and Community Safety Council.
About People Training For Good Dogs: People Training for Good Dogs provides tools and training to help sensible owners enhance their relationships with their pets. Published author and former animal officer Melissa Berryman is a trusted media resource on dog care, instruction and owner support. She has spent years working with animal organizations, dog owners and dog bite victims. To see what People Training for Good Dogs can do for you, visit http://www.ptfgd.com.