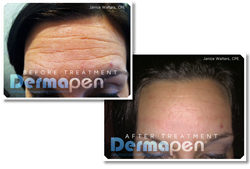 "Micro Needling with Dermapen has become more and more popular with Plastic Surgeons, Dermatologist, and MD's of all types. They are looking to have their professional staff certified on Micro Needling protocol safety" says Mike Morgan - CEO of Dermapen
NYC,NY (PRWEB) April 01, 2013
Needlelogics, LLC introduces the only approved certification course recognized by the Dermapen® Micro Needling System. The "Needlelogics for Dermapen Certification" program is a revolutionary training guide and instructional protocol designed for medical and aesthetic professionals who will be performing and overseeing the Dermapen procedure. As the premier brand leader in skin needling technology with unmatched market exposure, ongoing research and client support, Dermapen is proud to introduce the Needlelogics for Dermapen Certification program to assist in instructional, practical and marketing solutions to utilize the science of collagen induction therapy. Needlelogics, LLC is committed to advancing the science of The Dermapen micro needling system worldwide.
The Needlelogics for Dermapen® Certification program covers the history and discovery of the micro-needling or per-cutaneous collagen induction (PCI) phenomenon. This is also communicated as collagen induction therapy (CIT). PCI is based on over 15 years of research of dermatologists and plastic surgeons all over the world. This course will take a look into the history of skin needling and an overview of what the current science of micro-needling is offering the aesthetic and cosmetic community today. The Dermapen treatment offers exceptional results and is suggested as a stand-alone treatment, however it also supplements the traditional treatments offered in most aesthetic practices such as fractional laser resurfacing, chemical peels, dermabrasion and more. This certification program will set the standard for medical and aesthetic professionals to extend their education to include micro-needling and increase their opportunities and list of services to include the following:
Subjects Covered in the Certification Program Syllabus:
· 6 hour live session
· The history, improvements and leaders in skin micro-needling
· The future of skin micro-needling
· Dermapen products and use protocols
· Dermapen treatment guidelines
· Adverse and contra indications for Micro Needling
· Dermapen before and after patient care
· Micro Needling Treatment demonstrations
· Practical hands on training
· Program participants will each receive a Dermapen treatment
· Comparative and adjunctive skin therapies available for combination methods
· Exam activities and practical test exercises
Who Should Attend?
Physicians • Practice Managers and Administrative/Ancillary Staff
APRIL 6 • NEW YORK CITY
THE WESTIN New York GRAND CENTRAL • 212 East 42nd Street • New York, NY 10017
Embassy Room: 9am - 3pm
Registration - Click Here
$899 for a single attendee, $1,499 for two attendees
Included with registration: Breakfast and $500 FREE Voucher toward DERMAPEN purchases
LIMITED SEATS Available. 10 Seats Left!
Call 801-550-0600 or email Mark McGillis @ mark(at)dermapen(dot)com
ABOUT DERMAPEN
Micro-needling has long been one of the most effective methods of producing significant collagen remodeling for the purpose of removing acne scars, reducing fine lines and reducing pore size. The Dermapen device by Dermapen, LLC has become the household name in automated skin needling in the global market today. The Dermapen treatment harnesses the body's own wound healing response within the dermal layers of the skin. The Dermapen utilizes the science of collagen induction therapy or collagen "stimulation" therapy by introducing thousands of tiny micro injuries to the dermal and sub dermal layers of the skin. These micro injuries create micro channels, which will immediately cause the skin to start a restorative, and repair process, which involves a cascade of events including increases in new collagen formation. These tiny micro channels also increase the potential for trans delivery of cosmeceuticals. As the skin heals itself it corrects many of the skin imperfections as well. An improved skin appearance, elasticity, texture, color are the result.