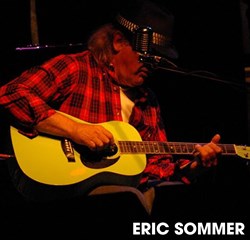 Meeting Mrs. Schmidt saved me from an ordinary life
Eric Sommer
Middlebush, NJ (PRWEB) April 03, 2013
How would you like to have a sculpture of your kitchen – with you in it – in The Whitney Museum of Art?
Meet Ruth Schmidt.
Her house on Back Street in Middlebush, NJ was the epicenter of a creative cyclone that served as ground zero for The Happenings Movement, an art form created by Alan Kaprow and Ruth's son Clarence Schmidt in the late 50's and early 1960's.
The large house on Back Street was a constant meeting place for Kaprow and Schmidt, as well as Robert Rauschenberg, Jim Dine, Red Grooms, Claus Oldenberg and many New York artists who passed through there. That included sculptor George Segal,
Eric Sommer spent a summer in Middelbush in a rented house on the other side of Ruth's fence on Front Street, and as a very young boy found his way into Ruth's kitchen one afternoon and stayed there for 4 months. So did Robert Rauschenberg, Jim Dine, Red Grooms, Claus Oldenburg and many New York artists including sculptor George Segal.
Happenings and the movement they spawned became an important part of Modern American Art, influenced by Jackson Pollock and conceived, staged, organized and led by Alan Kaprow and Clarence Schmidt. This art form merged action painting with Kaprow's new "performance art" to created one of the most authentic, dynamic and enduring art forms of the American Pop Art and Modern Art experience.
April 5th marks the 7th Year of Kaprows passing - he passed away in Encinitas, CA on April 5th, 2006 - and Eric Sommer has written about these remarkable days in a short essay titled "One Day in New Jersey" which describes meeting Ruth Schmidt, sitting in her famous kitchen all summer in 1963 and meeting, seeing and being exposed to a remarkable moment in American Art. The huge ramshackle house is still there on Back Street, and the immense amount of clutter and collected items that Sommer describes so thoroughly in his essay are still strewn about as well.
Some of the items Sommer describes are remarkable – a large cardboard castle made out of painted cardboard and cracker boxes, painted white with perfectly cut out rose windows and small shrubbery in the courtyards, and a pair of sneakers set on a piece of plywood, covered in grey paint with the name "J. Dine" scribed in the then-wet paint. The description of actually meeting Mrs. Schmidt describes a chain-smoking whirlwind of a woman who fried marbles regularly and put them in glass jars on the window shelves by the thousands creating a cathedral of light amid the laundry hanging near the stove.
The kitchen itself, the items in it, the laundry, the cigarette wrappers, were the subject of an installation sculpture by artist George Segal.
The story "One Day in New Jersey" is available for free at the Eric Sommer website, as are additional writings. Mr. Sommer is currently touring the country in a 2000 Chevy Blazer with 450,000 miles on it and plays around 250+ music shows a year.
______________________________________
For Music Samples please visit CDBaby or Eric Sommer online for additional schedules or contact him at eric(at)ericsommer(dot)com or call 202-255-1995. Additionally, you can find Eric Sommer on Facebook, too.
Eric Sommer is represented by Clyde is Thinking, and PR programs are managed thru MTG/NY; For more information, promo/appearance requests or to set up an interview, please contact Tom Monihan 202-255-1995.