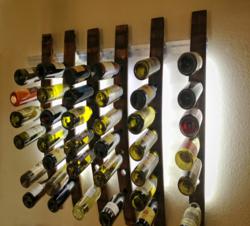 What once held wine holds wine again
Healdsburg, CA (PRWEB) April 03, 2013
Dale Rorabaugh, the designer and creator of the LUMI Wine Wall brings a new purpose for retired French and American Oak wine barrels. The average life of a wine or spirit barrel is just 5 - 7 years. For such a resource rich material to be disposed of after such a short period of use seemed to him a waste of natural resources. So, Rorabaugh set about finding a way to reuse the barrels to create handcrafted functional works of art where the environmental value of the wood would be appreciated.
The process begins with dismantling the wine barrels and sorting them to size. The staves are then cleaned, lightly sanded and finished for a smooth feel but still hold that authentic rustic look and keep the natural wine tint. Because the staves have a compound curve (curved in to directions) angle specific holes are drilled so the neck of the wine bottle rests securely in its place as if suspended in mid-air. After staining the stave 24 Super Bright LEDs are attached to the back of each stave giving it a "sconce effect.".
The modular wine wall combines old and new into a stunning creation that is at once modern art an illuminated modular wine storage system (Lumi Wine Wall Video). This allows owners to showcase wine in a simple but elegant way adding a unique touch to any room, apartment, restaurant, winery or wine bar. The staves are mounted securely on an aircraft grade anodized aluminum extrusion bar allowing the wine collection to evolve over time. The modular wall allows you to start with one, two or as many staves for your collection no matter how large or small.
The most compelling feature about the LUMI Wine Wall is the illumination factor. 24 Super Bright LEDs are mounted to the back of the compound curve of each stave to provide a focal point for the eyes, beautiful illumination for any room and environmental benefits unavailable through traditional lighting technology (either incandescent or CFL bulbs).
To make the Lumi Wine Wall a reality, the company has turned to Kickstarter, the project-driven crowd-funding website. Their objective is to raise $15,000 to help offset the product development costs and bring the product to the market faster than otherwise possible.