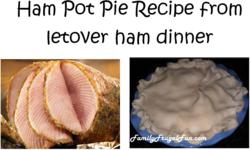 Leftovers save on your grocery bill, reduce food waste, and help you get out of that dinner crunch. Best of all, you'll be at the dinner table with your family
(PRWEB) April 01, 2013
Eating leftovers no longer means eating the same thing a second night according to http://familyfrugalfun.com/. Millions of families everywhere celebrated Easter with a ham brunch or dinner and now Maggie Miller of Family Frugal Fun has released her easy to follow recipe for Ham Pot Pie made from your leftover Easter ham. "Its easy and delicious," says Ms. Miller. You can eat it the next night or pop it in the freezer for a busy night next week when you don't have time to cook."
Families everywhere are learning to stretch their dollars with leftovers. Ms. Miller suggests purchasing the largest cut of meat when you're shopping at the grocery store and then planning leftovers from that main dish. "Leftovers save on your grocery bill, reduce food waste, and help you get out of that dinner crunch. Best of all, you'll be at the dinner table with your family," says Maggie. You can find the recipe at http://familyfrugalfun.com/easter-ham-dinner-leftovers-recipes-ham-pot-pie-recipe/#more-57730
FamilyFrugalFun.com is a blog about frugal living tips, creative ideas for parents and having fun for families. It was established over two years ago by Maggie Miller the frugal living expert. It quickly became a hit as evidenced with the blogs high Facebook Fan count. Beth Rose and Maggie Miller co-authored Top 100 Mobile Text Coupons on Amazon's Kindle. Ms. Miller has been seen on Good Morning Delmarva, had frugal tips in All You Magazine and had their blog voted CBS Baltimore's Most Valuable Blogger People's Choice Award in 2011. She recently created the wildly popular 12 Month Frugal Living Calendar. You can also find Ms. Miller's creative ideas on Pinterest & YouTube.