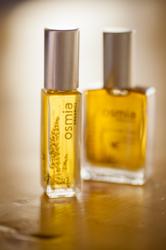 Carbondale, CO (PRWEB) April 02, 2013
Osmia Organics announces the release of its natural perfume entitled Posso, which translates to "I can" in Italian. The company's founder, Dr. Sarah Villafranco, initially developed the blend as an antidote to the feelings of insecurity that can plague us all occasionally. Frankincense has been used for ages as a meditation aid, serving to deepen the breath and connect one with the deeper self. Violet leaf absolute is useful in overcoming fear and shyness, while Melissa can balance and uplift the spirit. Grounding Sandalwood essential oil is the other critical ingredient, calming the busy mind and paving the way for clarity and courage to take their places.
The combination of these therapeutic oils, in addition to bolstering determination, turned out to be cohesive and complex, making it suitable as a scent, which many aromatherapy blends are not. The blend has been so popular among Osmia customers that it is being released as a natural perfume. Posso is made in a base of steam-fractionated coconut oil and organic, golden jojoba oil. The essential oils and extracts are then added, and the oil is allowed to "percolate" for 3 weeks prior to bottling. (Essential oils, CO2 extracts, and absolutes are explained in this article on Osmia's website.) The perfume comes packaged in a roller bottle with a screw top, allowing customers to carry it in their purses without concern for leakage.
For more information about Posso, or natural perfumes in general, please visit http://www.osmiaorganics.com.