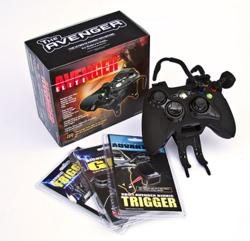 The ultimate FPS game enhancing accessory
Miami, FL (PRWEB) April 02, 2013
Makers of the critically acclaimed Avenger Elite controller, considered by many to be the best controller accessory for FPS games due to its unique design, N-Control has teamed up with Epiphany Interactive to better interact with the constantly growing FPS community.
Epiphany Interactive was founded by a group of gamers who shared the belief that gaming organizations should be both a business and a family. Because the founding members are also gamers, Epiphany Interactive puts its core focus on its gaming audience while ensuring that its sponsored promotions not only put good focus on the sponsors but also allows the community to interact with great recreation. Mixed with a love for e-sports, the possibilities are endless.
Currently, the company offers show matches for Gears of War and hopes to expand its inclusion of games to run matches for Halo 4, and much more. Show matches will run on a weekly basis, though Epiphany has already stated that it will take into account the schedules of other major events like MLG, UMG and PayBack Games streams.
Epiphany Interactive CEO, Kyle Adkins was quoted saying, "These weekly show matches all come thanks to N-Control, makers of the best controller accessory for FPS games known as the Avenger Elite. Their support makes it possible to provide weekly cash prizes for taking the top spot in the FPS game of the week."
The partnership began due to N-Control's appreciation for the companies that work hard to turn Call of Duty tournaments into a professional niche within the e-sports community. N-Control Business Director Frank Shephard was quoted as saying; " We felt that there were other great first-person shooters that had the opportunity to shine in the same aspect. After all, if Call of Duty can turn into a platform for rigidly competitive tournaments, why not Halo 4, Gears of War: Judgement and other games?"
Epiphany Interactive Show matches powered by Avenger Controller are scheduled to begin April 4-7th. Shows should continue on a weekly basis alternating between USA and EU professional E-Sports teams and various game titles. Follow Epiphany Interactive on twitter @Epiphany-Kyle and Avenger Controller @Ncontrolavenger for updates.