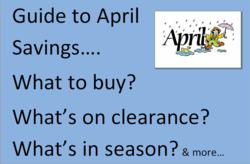 There are so many things happening all over the United States every month and now families can plan their calendars and what to buy with our April guide to savings
(PRWEB) April 01, 2013
Have you ever wondered how some people keep all of these deals and free events in their heads? Well Maggie Miller of http://familyfrugalfun.com/ has released a monthly savings guide so consumers know what is on sale, what things are free, and what things are on clearance in the month of April. "Families need a monthly guide to follow to help them live a frugal life and that is exactly what I've created," says Maggie Miller. "There are so many things happening all over the United States every month and now families can plan their calendars and what to buy with our April guide to savings."
This April grocery sale cycle chart helps everyday families with common monthly purchases and entertainment fun. It covers everything from free Lowes Build and Grow kids workshops to clearance deals and Free Cone Day at Ben & Jerry's Ice Cream. You can find this guide at http://familyfrugalfun.com/guide-to-savings-in-april-what-to-buy-whats-on-clearance-whats-in-season-in-april/
FamilyFrugalFun.com is a blog about frugal living tips, creative ideas for parents and having fun for families. It was established over two years ago and quickly became a hit as evidenced with the blogs high Facebook Fan count. Beth Rose and Maggie Miller are frugal living experts and co-authored Top 100 Mobile Text Coupons on Amazon's Kindle. Ms. Miller has been seen on Good Morning Delmarva, had frugal tips in All You Magazine and had their blog voted CBS Baltimore's Most Valuable Blogger People's Choice Award in 2011. She recently created the wildly popular 12 Month Frugal Living Calendar. You can also find Ms. Miller's creative ideas on Pinterest & YouTube.