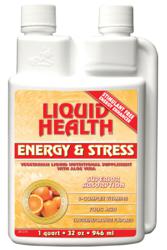 B Vitamins can help a person's nervous system deal with stress more efficiently
Murrieta, CA (PRWEB) April 04, 2013
Stress is a common ailment that can lead to serious health problems. According to WebMD.com stress can contribute to health difficulties such as headaches, high blood pressure, heart problems, diabetes, skin conditions, asthma, arthritis, depression, and anxiety. With April being Stress Awareness Month, Liquid Health is spotlighting their liquid vitamin b supplement, Liquid Health Energy & Stress.
Since 75-90% of doctor's visits are for stress-related problems, it's important to learn stress management techniques. There are a number of things a person can do to deal with stress. Common stress relievers include yoga, meditation and regular exercise. Additionally, B vitamins have been shown to help reduce the effects of stress on the body. Liquid Health's Energy & Stress supplement contains a combination of b vitamins and Eleuthero and Potassium for a natural boost of energy, as well as supporting the body's cardiovascular system.
"B Vitamins can help a person's nervous system deal with stress more efficiently, which can significantly reduce the negative effect stress can have on your body" according to Rob Bonham, online marketing manager for Liquid Health, Inc.
Liquid Health Energy & Stress Supplement contains:
Thiamine (Vitamin B1) 20mg
Riboflavin (Vitamin B2) 40mg
Niacin (Vitamin B3) 40mg
Pyridoxine (Vitamin B6) 50mg
Folic Acid 750mcg
Methycobalamin (Vitamin B12) 200mcg
Pantothenic Acid (Vitamin B5) 100mg
Potassium (Citrate) 90mg
Eleuthero (Eleutherococcus senticosus) leaf 10mg
Liquid Health's Energy & Stress supplement is available for purchase nationwide as well as from a number of online retailers.
About Liquid Health, Inc.:
Liquid Health, Inc. has been designing and manufacturing liquid vitamin supplements since 1991. All Liquid Health products, including Energy & Stress, are manufactured in a certified-cGMP (current Good Manufacturing Practices) facility, using only premium/qualified ingredients, and are analyzed and tested. All Liquid Health products are made in the U.S.A.
Contact:
Sarah Brimhall, Marketing Associate
Liquid Health, Inc.
800-995-6607
http://www.liquidhealthinc.com