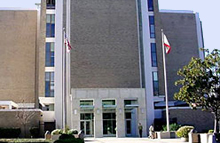 Mrs and Mr Merritt had been targeted by three state court judges with repeated denials of disability accommodations only after the Merritts were successful in getting another judge disqualified from their predatory lending case
San Jose, CA (PRWEB) April 02, 2013
According to court documents, on March 28, 2013, a San Jose, California couple filed a Federal Civil Rights lawsuit against three Santa Clara Superior State Court judges and the Santa Clara Superior Court itself (Merritt v. Mckenney et al, 13-1391).
In Merritt v. Mckenney et al, 13-1391, the federal court located in the Northern District of California's San Jose's division, accepted and filed a new lawsuit which alleges that Mrs and Mr Merritt had been targeted by three state court judges with repeated denials of disability accommodations only after the Merritts were successful in getting another judge disqualified from their predatory lending case against Bank of America and Countrywide Home Loans.
The federal complaint alleges that the Merritts have filed both an anti-predatory lending lawsuit for making fraudulent loans to them, as well as a second lawsuit against Classics Home Owners Association for disability discrimination. The lawsuit further alleges that once Mr Merritt repeated sought special disability accommodations for his wife, who was then undergoing medical treatment for her disability, that Mckenney retaliated by dismissing their disability claims.
The lawsuit also charges that judge Pierce allegedly refused to provide an accommodation of permitting Mrs Merritt sufficient time to prepare for and answer a motion filed by Bank of America lawyers Goldberg, and that judge Manoukian is failing to protect Mrs Merritt from Goldberg's abusive deposition behavior. The lawsuit alleges that part of Mrs Merritt's disability has to do with limitations of how much time she can spend focusing on legal matters due to her disability.
The case has been randomly assigned to federal district court judge Paul Singh Grewal to administer the case prior to trial. The U.S. Marshals Service is expected to serve the judges in the coming weeks.