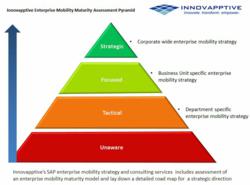 Every company faces the need to empower their workforce to stay competitive in today's market. Innovapptive not only gives its clients the tools, but also the necessary resources to implement these tools effectively.
Houston, TX (PRWEB) April 02, 2013
Innovapptive Inc., an emerging SAP enterprise mobility solutions provider, announced the launch of several professional service offerings for SAP customers looking to build and implement a long term corporate enterprise mobility strategy. Innovapptive's professional service offerings will complement their growing suite of SAP certified mobile applications and accelerate customer adoption to extend business value to SAP customers looking to go mobile. Furthermore, by combining their SAP enterprise mobility products along with these service offerings, Innovapptive hopes to become a compelling one-stop destination for enterprises looking to scale their mobility challenge.
With the release of these professional services offerings, Innovapptive provides comprehensive suite of enterprise mobility solutions designed to help companies grow their mobile infrastructure. The SAP Enterprise Mobility Consulting offering enables companies to deploy and keep pace with the evolving mobile landscape without having to invest heavily in their development teams. Innovapptive's Enterprise Mobility consulting team will work with their customers to perform an Enterprise Mobility maturity assessment to carve out their future strategy. Innovapptive will perform this assessment in several dimensions and focus on laying down a road map to move their customers to the top of the enterprise mobility maturity model pyramid. Starting with an Enterprise Mobility benefit case analysis to a strategy and expertise assessment to technology and user- experience oriented deployments and ending with building the Enterprise mobility foundational policies, Innovapptive's experienced team of consultants have all the necessary tools and skills for an efficient mobility solution deployment.
"Every company faces the need to empower their workforce to stay competitive in today's market. Innovapptive not only gives its clients the tools, but also the necessary resources to implement these tools effectively. Our team understands user need, business goals and mobile opportunities. As a result, organizations are better able to increase revenue opportunities and improve their employee productivity, while Innovapptive handles the enterprise mobility services component", said CEO and co-founder Hari Kamineni.
Some of the services offered as part of Innovapptive Enterprise Mobility consulting are –

Rapid deployment and customization services of SAP certified mobile apps (4—6 weeks)
Design, build and test customer specified enterprise mobility applications for Apple iOS, Android, Windows 8, Blackberry and HTML5 Mobile app development
Cross-platform UI development for online applications through Appcelerator, PhoneGap and Sencha Touch
On-Premise / Cloud development
Innovapptive's Support and Maintenance service offering has been formed to monitor changes in the mobile device and operating system landscape. The Innovapptive Global Delivery Center's (GDC) support service team works closely with mobile operating system (Apple, Android, Windows and Blackberry) providers to design upgrade ramp-up programs which assist customers with seamless upgrades, testing and re-deployment of their mobile solutions. In addition, this team also provides 24/7-enterprise mobility support and maintenance to Innovapptive's customers and its internal development efforts.
"We want to offer products and services that are a true game-changer and bring an immediate impact to our clients bottom-line. These professional service offerings have been formed with exactly that in mind. We believe that Innovapptive has the answer for companies looking to leverage the tremendous potential of SAP's enterprise mobility solutions", commented President and co-founder Sundeep V. Ravande. "We have a mobility solution that fits every need." Innovapptive believes that with these services it has set the bar for a comprehensive enterprise mobility strategy, development, deployment and support model. To schedule a risk-free assessment of your company's mobile landscape please contact the Innovapptive sales team.
About Innovapptive
Innovapptive Inc. is an Enterprise Mobility - Development, Consulting and Staffing firm that specializes within the Source to Pay, Finance and Analytics business processes by providing a wide range of SAP product engineering and consulting services. Innovapptive's expertise in SAP Product Development, business strategy, transformation, implementation, deployment and operations offers our clients a wide range of end-to-end solutions that maximize their business productivity.