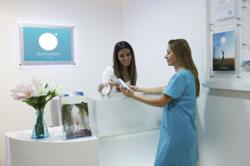 Less complicated and intrusive than traditional gastric band treatments, Gastric Mind Band is a groundbreaking way to help patients lose the extra weight
Dubai, (PRWEB) April 04, 2013
Dubai-based holistic well being center, Illuminations, is now offering Gastric Mind Band treatments at their Jumeirah Lake Towers location. Less complicated and intrusive than traditional gastric band treatments, Gastric Mind Band is a groundbreaking way to help patients lose the extra weight.
Using hypnotherapy treatments, Gastric Mind Band is a pain-free and safe procedure, which helps individuals change their eating habits and relationship to food over five sessions. Each session combines hypnotherapy, cognitive behavior therapy, neuro-linguistic programming and guided imagery. Unlike traditional surgical AGB (Adjustable Gastric Band), there is no surgery involved.
Developed in Spain by Martin and Marrian Shirran, Gastric Mind Band has started making its way around the world and has many benefits. Illuminations aims to provide services, which are non-intrusive and support clients in this life change through a range of techniques and methods. Illuminations takes care to employ a team who understands these changes and can help the flourish post-treatment.
Roopali Bajaj is a qualified GMB Therapist and Integrated Hypnotherapist conducting individual-based healing sessions, empowerment workshops, and meditations on behalf of Illuminations. Bajaj began her career in advertising, but during a ten-day silent retreat Bajaj had an epiphany about the true purpose of her life - to support and nurture herself and others on a spiritual path.
Never straying from her calling, Bajaj has explored all avenues of modern well being techniques such as hypnotherapy, Theta healing, Pranic Healing and the Emotional Freedom Technique. Employing the best of each technique, she has emerged as an expert in taking her clients on a path to discovering their core inner beliefs. Clients at Illuminations who have experienced the treatment have had extremely positive results.