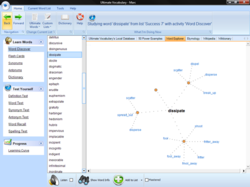 What all of these studies and research prove is that children, particularly at the beginning, cannot simply be left alone to learn about words on their own.
New York City, NY (PRWEB) April 06, 2013
Unlike walking and other kinds of motor skills, which children often develop naturally, in order for a child to build vocabulary properly they need guided assistance. It is part of the cognitive development process that is a crucial part of the child's early years, and as such, benefits from constant progress and advancement. This principle of guiding learners through the vocabulary-building process formed part of the design process when Ultimate Vocabulary was initially developed, according to a news release issued last week by the software company eReflect. In the news release, company representatives pointed out the parallels between the personalized approach provided by Ultimate Vocabulary and the new educational standards required by the Common Core curriculum project in the United States, as well as similar measures around the world.
This principle of guided learning has a long history. A study conducted by the Laboratory Schools of the Department of Education, University of Chicago, compared vocabulary development between two groups of fourth-grade students in the school year of 1932-33. Eventually, it was found that the students in the group who were subjected to close assistance or guidance for vocabulary learning showed better proficiency, not only in vocabulary development but also in oral and silent reading. In 2008, the UK Department for Children, Schools, and Families did similar research for their study titled "Teaching Effective Vocabulary." The work continue with groups as diverse as the National Geographic Society, long a promoter of early childhood education; in their 2012-2013 "Academic Vocabulary Toolkit" they offer strategies to help teachers give their students the support they need.
What all of these studies and research prove is that children, particularly at the beginning, cannot simply be left alone to learn about words on their own. Said Marc Slater, director of Ultimate Vocabulary, "A child's cognitive functions are just developing during this period as it is. It is definitely going to be much more beneficial for the child if they have someone properly guiding them to learn about words and their meanings, pronunciations, and contextualization."
It is precisely this concept of necessary guided assistance that Ultimate Vocabulary incorporated into its teaching software. Ultimate Vocabulary's software allows the student to work on their own while still benefiting from an organized process of progression for vocabulary building. The program is designed to allow the learners to establish the foundation for vocabulary development, going through a step-by-step process, with simpler words providing the basis for later, more complex vocabulary. This makes it easier for new language learners to learn words and their meanings in various contexts.
While many studies focus on children, vocabulary development is not something that should be ignored by adults. Having a large and comprehensive vocabulary allows people to achieve more and interact with others successfully; vocabulary is at the core of all kinds of communication tools and techniques. With these studies being only some of the many research projects over the past decades pointing to a significant need in guidance for learning, Ultimate Vocabulary hopes to be the primary supplementary tool for teachers and students everywhere.
For more information on how you can benefit from Ultimate Vocabulary, please visit its official website, http://www.ultimatevocabulary.com.
About Ultimate Vocabulary™
Ultimate Vocabulary provides a proven and powerful platform, built to improve anyone's vocabulary.
The interactive self-improvement system provides more learning tools than any other program on the market, as well as more information on words.
The Ultimate Vocabulary software provides each and every user with a personal computer tutor. Providing a step-by-step guide to learning a powerful vocabulary, Ultimate Vocabulary is the learning tool everyone can benefit from.
Of course, the software is also backed by eReflect's iron-clad money back guarantee.