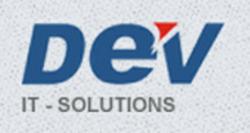 (PRWEB) April 02, 2013
Dev IT Solutions, is a well known company in the field of IT products and services. Company's main operations are focused on Web Designing, Web Development and Mobile Applications Development for platforms such as iOS, Android, Blackberry, Symbian and Windows. Dev IT Solutions has already launched about 20 Mobile Applications for iOS, Android & Windows and 50 Mobile Applications out of the remaining 280 are almost developed and will be launched soon. The company already has the concepts and databases ready for the other applications to be launched within this financial year.
Company has a team of expert developers having a vast experience of development on platforms like iOS, Android, Blackberry, PHP, Jhoomla, Drupal, Magento, Wordpress, Java, J2ME, J2EE, etc. The designing team consists of experts in Photoshop, Dream Weaver, Flash, J Query, Javascript, Ajax, HTML, XHTML, etc. Dev IT Solutions has core expertise in Mobile Application Development in iOS, Android & Blackberry. Applications launched by the company so far include Educational Mobile Applications, Utility Mobile Applications, Educational Mobile Gaming Applications and Mobile Gaming Applications.
Below is the list of some Applications developed by Dev IT Solutions and are already available on the App Stores.
1. Listen To Learn - My First Thousand Words
2. Kid's English Classroom
3. Improve English With Synonyms
4. Improve English With Antonyms
5. Prefix & Suffix
6. Color My Idol
7. Math4kids
8. What Do You Want To Be?
9. Color My Alphabet
10. Learn Alphabet With Cursive Write
11. Math Mate - Learn & Practice Addition & Subtraction
12. Math Mate - Learn & Practice Multiplication & Division
13. Role Model Jigsaw
14. World Of Fruits
15. Wild Planet
16. Mapsee - Create, Record & Share Maps
17. English Conversation
18. Memory Hawk
19. Blast Virus
20. The USA
For more information, please visit http://www.devitsolutions.com/devitmobileapplication/
About Dev IT Solutions:
Dev IT Solutions is one of the leading companies providing cutting-edge solutions for Mobile Application Development on various platforms. It has a dedicated team for Development of Mobile Applications i.e. iPhone Application Development, Android Application Development, Blackberry Application Development and Window Mobile Application Development.
iPhone, iPad are trademarks of Apple Inc., Android is a trademark of Google Inc., Blackberry is a trademark of RIM Inc., Windows is a trademark of Microsoft Inc.