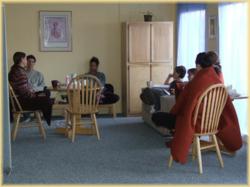 Programs offered by Escuela de Ayurveda de California are internationally recognized and follow highest educational standards in the world.
(PRWEB) April 01, 2013
La Escuela de Ayurveda de California is proud to announce its 2013 ABT Level I (Ayurvedic Body Therapy) course in Colombia. The intensive training will take place from October 31st to November 4th in Bogotá and includes training in ayurvedic massage (masaje abhyanga), herbal steam (svedana) and shirodhara training.
Shirodhara is a therapy where the patient lies down with their eyes covered to receive a specially prepared warm herbal oil that is poured in a thin steady stream onto the forehead, an important energetic point. This blissful therapy purifies the mind, alleviates anxiety, headaches and expands awareness. Shirodhara can be part of a escuelaayurveda.com/panchakarma [panchakarma] detoxification program.
Ayurvedic massage (abhyanga) is a choreographed hand dance performed by two practitioners. Using oils blended with special herbs, this form of massage specifically loosens up the toxins (ama) stored in the tissues. Not only is it cleansing, but it is deeply relaxing and is very pacifying to vata dosha.
Finally, Svedana is a full-body steam therapy that aims to dilate the channel systems of the body allowing the stored toxins (ama) to move back into the digestive system. To participate in the program, students must be enrolled in the "Educador de Salud Ayurveda" program (Level I ayurvedic studies) or the "Fundamentos de Ayurveda" course (1 month).
Ayurveda is a healing modality practiced for over 5,000 years. In Ayurvedic medicine (Medicina Ayurveda), it is considered that health begins when an individual lives in harmony with their environment, having a profound understanding of their individual needs. Ayurveda aims to heal an individual in all levels (physically, emotionally, and spiritually) by using a variety of healing treatments including medicinal herbs, Ayurvedic diet, color therapy, aromatherapy, sound, lifestyle recommendations, panchakarma, meditation and yoga.
For more details, please call +1 (530) 616 8332 or visit EscuelaAyurveda.com. You can also learn more about Ayurveda Colombia and Ayurveda Mexico.