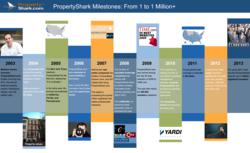 New York City, NY (PRWEB) April 02, 2013
Founded in 2003 by real estate investor and programmer Matthew Haines, PropertyShark registered significant growth during the difficult years of the real estate market meltdown, and has been a part of Yardi Systems since 2010.
"PropertyShark's aggregation of real estate data from hundreds of sources into a single property research website has changed the way real estate investors, professionals, and consumers educate themselves and make decisions about property in hubs like New York and Los Angeles," said Gordon Morrell, Yardi System's executive vice president and COO.
The Road from 1 to 1 Million+ Members
PropertyShark began by servicing the New York real estate market, offering exciting tools such as comprehensive property reports, foreclosure listings and real estate maps. Very soon, the company was also covering California, Florida and Pennsylvania.
Starting in 2007, PropertyShark entered strategic partnerships with well-known companies such as Corcoran, Elliman, Town Residential, and many others. Their number grew considerably to more than 300 corporate partners in 2012.
2010 marked an important achievement for PropertyShark. Its acquisition by real estate software company Yardi Systems lead to the company expanding its coverage nationwide. Today, valuable data is offered about real estate markets in 46 states.
With the company consistently growing, the traffic doubled in 2012, reaching 1 million visits per month. The number of corporate accounts is also on the rise, with Wells Fargo becoming one of the company's latest corporate clients.
Among other media awards, the company received recognition from Time.com, which included it in its list of 50 Best Websites, next to giants such as Google, Wikipedia, and Twitter.
The Product Suite
The first products that were developed were property reports, foreclosure and pre-foreclosure listings, and real estate maps. Soon afterwards, our comparables tool was ready to use, followed by the list builder and the ownership search tool. The latest tool is property alerts, which allows users to receive timely notifications for all the properties that interest them.