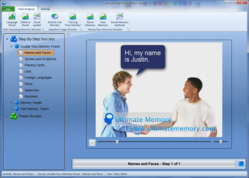 ...this methodology is the same one that personal trainers use at a gym, giving guided practice exercises to the user to help them build memory strength in a planned fashion.
New York City, NY (PRWEB) April 09, 2013
When the developers at eReflect were working with memory experts to design the Ultimate Memory™ software system, they chose an approach to improving memory performance that rests on a more diligently designed methodology, making it more efficient at memory improvement. As the developers explained in a recent statement outlining the features of the 2013 release of Ultimate Memory, this methodology is the same one that personal trainers use at a gym, giving guided practice exercises to the user to help them build memory strength in a planned fashion. In a recent Squidoo review, the reviewer also compared the use of the software to a gym exercising routine. When someone consciously and effectively builds muscle, rather than haphazardly spending a few minutes on each machine, long-term and lasting physical strength and stamina occurs. In this case, with the use of memory software, the user's memory skills strengthen and become less impervious to aging and deterioration, the more the user practices.
Of all 2013 memory software reviews to date, the one that stands out is this Squidoo review comparing Ultimate Memory™ to Phenomenal Memory software. As eReflect, the parent company of Ultimate Memory™ revealed today, the detailed review provided an in-depth analysis of two different memory software programs, contrasting their features. In the end, the review concluded that Ultimate Memory™'s wins out over all other memory improvement software products on the market.
The review suggests that despite an impressive list of components in a competing product, Phenomenal Memory, Ultimate Memory™ covers all eight types of memory through its seven different components, enabling the user to improve their memory in a uniform and long-lasting manner. The review also touches upon the twofold method of learning Ultimate Memory™ offers. That is, it provides both expertly designed games and practices as well as prompting the learner with techniques and methods for better information recall.
A unique feature to Ultimate Memory™ is its performance tracking ability, which allows users to instantly have access to their memory improvement progress and immediately know which aspects of their memory further need improvement. The reviewer suggests that the performance tracking feature acts as a motivator, boosting the user's urge to study further with Ultimate Memory™. The last feature the review deals with is the video tutorials in Ultimate Memory™ that render it especially suitable for people new to memory improvement software, making the process less frustrating and more straightforward for the user. Again, as the development team at eReflect points out, this mirrors the way a personal trainer at the gym demonstrates exercises, resulting in quicker understanding and more effective practice.
The review's verdict is that Ultimate Typing™ is better than all other memory improvement software products because of the many features that are unique to it, and first and foremost due to its unparalleled efficiency in improving memory. eReflect is grateful for this and all other feedback from users and reviewers, and welcomes input designed to make future releases of the software even better.
For more information on how Ultimate Memory software can help, please visit: http://www.ultimatememory.com
About Ultimate Memory™
Ultimate Memory™ is the market's leading memory improvement software package.
Scientifically proven to improve memory with as little as ten minute's user per day, Ultimate Memory™ is also backed by an iron-clad guarantee.
Containing many innovative strategies, tutorials, tips and exercises, users benefit from a myriad of varied ways to learn.