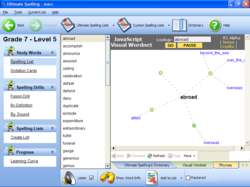 With a cumulative score of 9.88/10, Ultimate Spelling™ scored significantly higher than the second-place software tested.
New York City, NY (PRWEB) April 13, 2013
TopTenReviews.com has recently published spelling software reviews, among them being a detailed assessment of Ultimate Spelling™. According to the developer of Ultimate Spelling™, eReflect company, the software was awarded the Gold Award for its quality, but also in recognition of the software's contribution to the goal of improving spelling skills for children and younger adults.
With a cumulative score of 9.88/10, Ultimate Spelling™ scored significantly higher than the second-place software tested. A variety of factors and features contributed to this outcome, including the spelling activities and lessons that have been designed by experts, the advanced technologies of progress tracking and interactive video tutorials, and the software's dictionary-quality word database containing over 160,000.
The TopTenReviews.com website emphasized how Ultimate Spelling™, in contrast to other spelling improvement software products available, offers exhaustive and multilayer knowledge for each word the learner seeks to learn. From synonyms, antonyms, and real word usage to visual representations of concepts and action words, not to mention pronunciation, the user doesn't simply learn a word's orthography, but virtually everything else about a word that truly learning the word really entails. According to the Top Ten Reviews website, this feature and the in-depth word knowledge the user gains made Ultimate Spelling™ stand out from its competition. It also contributed in the software being awarded not just the Gold Award but also the Excellence award by Top Ten Reviews.
Out of all the spelling software reviews on Top Ten Reviews, the review on Ultimate Spelling™ stands out because it provides all the details and justifications for the software being awarded the Gold Award. Adjustability to learner age and level, expertly designed activities, challenging and engaging spelling games, performance tracking tools, and other useful features are more reasons for the awards delineated by the Top Ten Reviews team. Lastly, the Top Ten Reviews evaluation of Ultimate Spelling™ concludes that Ultimate Spelling™ is unlike any other spelling improvement software, and the Gold Award was a logical designation, given the software's expert and in-depth approach to spelling literacy.
For more information about how spelling software can improve spelling performance for you and your family, please visit the official website at http://www.ultimatespelling.com.
About Ultimate Spelling™
Ultimate Spelling provides a modern and easy to use spelling software that has been designed with one goal in mind – making children WANT to learn.
It is a fast and easy way to master even the most complicated spelling, without the need to write long lists or complete boring tests.
In fact, Ultimate Spelling provides more than just spelling help. It is a complete educational resource that boosts all level of a child's literacy.
Containing a personal computer tutor, Ultimate Spelling is the most realistic step-by-step guide to flawless spelling ability.