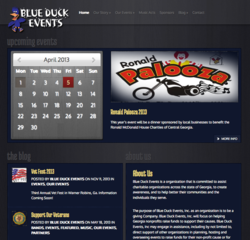 With their focus on helping non-profits put on successful events...
Macon, GA (PRWEB) April 03, 2013
Georgia event planners Blue Duck Events announced today the redesign and launch of the new Blue Duck Events website, BlueDuckEvents.org. Blue Duck Events Inc. is a organization that is committed to assisting Georgia's charitable organizations, raise awareness, and help better their communities and the individuals they serve.
This is news because Blue Duck Events Inc. has helped non-profits put events together like the Ronald Palooza to benefit the Ronald McDonald House in Macon, Georgia, and Vet Fest, a benefit event to honor military veterans. These events featured artists and bands like, National Recording Artists; Burns and Poe, Wet Willie and Great local Bands like The Brantley's, country music star Bobby Compton, Marty Evans, Two Finger Jester and many others.
With their focus on helping non-profits put on successful events, Blue Duck Inc. has made a significant contribution to the community and to individuals. The events have helped to ease the pain of sick children and their families at the Ronald McDonald House, provided meals for people in need during the holidays and familiarized audiences with veteran organizations and goals.
The redesigned website, developed by Najera Design + Marketing, a Macon web design firm, features an interactive events calendar that displays the events scheduled and includes detailed information about musical guests and shows. The website includes a slideshow that features events with local music stars and event highlights. The social media shareability feature on the redesigned website includes links to events that many sponsors and content users can share with broader audiences on Facebook, Twitter, Pinterest and LinkedIn so they can help spread the word. Listed events will also include an integrated Google Map so locating each event is easy.
Macon SEO Services are also provided by Najera Design + Marketing. Search engine optimized pages will attract bigger numbers of interested people and will increase event page relevance. Content marketing will be employed and will help spread the word and sell tickets. The links on each event page will reinforce the relationship of the events to the linked content, rendering a dynamic, symbiotic relationship with sponsors.
Blue Duck Event's new website will feature a Photo and Video Gallery of performance artists and bands who are featured and provide space for band and artist information.