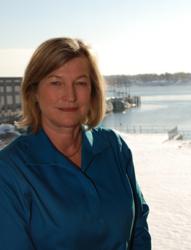 Nancy has been at the heart of Diversified Business Communications' expansion from the U.S. to a truly global business as well as being responsible for diversification into new industries
Portland, Maine (PRWEB) April 01, 2013
Diversified Communications, an international broadcasting, exhibition, publishing and emerging media company, announced today that Nancy Hasselback, President and CEO, has informed Diversified's Board of Directors that she will be retiring June 28th, 2013. Ms. Hasselback joined Diversified 33 years ago; she became President of Diversified Business Communications in 2003 and assumed her current role at Diversified Communications in 2009. Ted Wirth, Diversified's Vice President of Business Development, will become President and CEO of Diversified Communications after Ms. Hasselback's retirement. Matthew Pearce, the Managing Director of Diversified Communications Asia, will take on an expanded role in international business development.
"For many years, Nancy has been at the heart of Diversified Business Communications' expansion from the U.S. to a truly global business as well as being responsible for diversification into new industries," commented Daniel Hildreth, Chairman of the Board, "though perhaps the most important legacy Nancy leaves is from her commitment to Diversified's values and making the company such a great place to work."
During her tenure, Ms. Hasselback spearheaded the rapid growth of the company which produced four trade shows and three magazines in 1993. Since then, Diversified has launched and acquired more than 90 products and established new divisions in Australia, Hong Kong, India, the United Kingdom, Canada, and the United States, setting up infrastructures in strategic regions, building global brands and significantly diversifying the company's expertise and industries served. In the past two years, Diversified has expanded its investment in the primary care and medical specialty industry with the acquisition of Pri-Med and Amazing Charts, a leading electronic health record company. Under Ms. Hasselback's leadership since 2003, Diversified Business Communications' revenue has grown over 300%.
Ms. Hasselback has served as the chair of SISO, the Society of Independent Show Organizers, and CEIR, the Center for Exhibition Industry Research. She is a member of the Board of Directors of UFI, the Global Association of the Exhibition Industry.
Ms. Hasselback began her professional career in the seafood business as a commercial fisherman, owning and operating vessels fishing in Rhode Island and Alaska. In her retirement, Ms. Hasselback will return to life on the sea. She and her husband have immediate plans to set sail and pursue their long-time dream to explore the world's oceans.
When Ted Wirth becomes President and CEO of Diversified Communications he will lead an organization of almost 700 hundred employees operating on four continents.
"We believe that Ted's combination of skills and values make him ideally suited to lead Diversified into a bright and creative future," commented Daniel Hildreth on the Board's decision to select Mr. Wirth for this role.
Mr. Wirth first joined Diversified as Finance Director in 1994 and then served as Vice President of Commercial Marine Expositions. In 1999, he left Diversified to launch a magazine and subsequently a high-end personalized stationery company. Before returning to Diversified in 2008 in his current role of Vice President of Business Development, Mr. Wirth worked for Coastal Enterprises, Inc. advising small businesses and bringing investors to low income communities via tax credit programs. During his tenure as Vice President of Business Development, Mr. Wirth has played a critical role in the company's expansion, including the acquisition or Pri-Med and Amazing Charts, the leading electronic health record company, as well as entrance into the Hong Kong and Indian markets.
Diversified Communications is a privately held, family-owned business that operates in the broadcasting, exhibition, publishing and emerging-media industries. Founded by former Maine governor Horace Hildreth, the company started as WABI-AM radio station in 1949, and quickly became the state's first television station, WABI-TV in Bangor. In addition to WABI-TV, the company also owns WCJB-TV in Gainesville, FL and Diversified Business Communications in Portland, ME. For more information, visit http://www.divcom.com.
Diversified Business Communications, a division of Diversified Communications based in Portland, Maine, US provides information and market access through face-to-face events, publications and online. Diversified serves a number of industries including: seafood, food service, natural and organic, healthcare, commercial marine, and business management. Diversified operates divisions in Australia, Hong Kong, India, the UK and Canada. For more information, visit: http://www.divbusiness.com