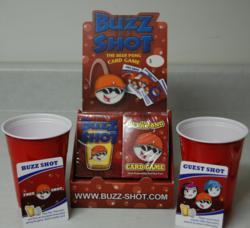 Buzz Shot, the Beer Pong Trick Shot Card Game.
Hempstead, New York (PRWEB) April 03, 2013
University culture, both inside and outside of the classroom has advanced by leaps and bounds in the past few decades. Textbooks have been replaced by digital files, notebooks and binders have been pushed aside by laptops, and face-to-face interaction has been minimized to discussions via text messaging and online conversations. Although many elements of student life have progressed, one area has remained stubbornly consistent: the practices by which young adults drink beer. All of that is about to change with the introduction of Buzz Shot, a new drinking card deck game that is already making its presence felt in the frat houses, living rooms and bars on the campus community.
Of all the traditional ways by which today's student seeks inebriation (i.e. funneling, shot gunning, keg stands, etc.), none is more popular than the time-honored game of beer pong. 2 teams, 10 cups, 2 balls and one goal – stay on the table for as long as possible and establish yourself as the life of the party with the perfect combination of confident trash talking backed up by a superior level of play. Offering a blend of excitement, competition, and intensity, many believe that beer pong is the perfect game and some would go as far to categorize it as a sport. Buzz Shot has taken the beer pong phenomenon and turned it into something even greater – an adventure.
Elevating drinking games to new heights, Buzz Shot has developed a card game with easy to follow instructions on how each beer pong player's shot will be taken. Standard beer pong house rules will still apply; however a player will now flip over a Buzz Shot card prior to their turn and perform the shot as instructed. By adding some unconventional conditions like "shoot with your opposite hand", "take a blindfold shot", "have a special guest take your shot", "shoot while sitting down" and "lose a turn", students have gravitated toward Buzz Shot as it has presented them with a radical new approach to their already beloved beer drinking rituals.
Buzz Shot is shaking up the whole college party dynamic by uniting students under one common goal – drinking (responsibly) together in a fun environment. Students are welcome to pick up their own Buzz Shot deck and let the revolution begin at http://shop.buzz-shot.com/.