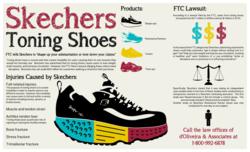 (PRWEB) April 01, 2013
In May 2012, the Federal Trade Commission (FTC) filed a lawsuit against Skechers alleging the company engaged in "unfair or deceptive acts or practices in or affecting commerce" (Federal Trade Commission v. Skechers USA, Inc.; Case: 1:12-cv-01214) (i). The FTC alleged that Skechers made unsubstantiated claims in order to make money in the toning shoe market, which grew from $17 million in 2008 to $1 billion in 2010. Specifically, the complaint alleges that Skechers advertised that toning shoes would help customers "get in shape without setting foot in a gym" and "help you lose weight and improve you circulation, creating a healthier you! (ii)" The FTC alleged that advertisements featuring celebrities like Brooke Burke and Kim Kardashian were used "to induce consumers to purchase Shape-ups" by using "women and men who are well-toned (iii)."
The FTC also alleged that the "independent case studies" were inadequate to support these claims. For example, two of the case studies were performed by Dr. Steven Gautreau who is a chiropractor married to a Skechers marketing executive. Additionally, the FTC alleged that one study did not have a control group and another study included "altered and incomplete" data (iv). According to an FTC press release, the FTC and Skechers reached a settlement where the company would pay $40 million to refund consumers who relied on claims made about toning shoes (v).
The Skechers infographic lists the toning shoes that are subject to the refund. Additionally, the infographic provides consumers with possible safety concerns associated with these toning shoes such as fall-related injuries or damage to leg muscles and bones. Visit the Skechers webpage and view the infographic here: Skechers Shoe Infographic.
If you or a loved one has suffered ankle or leg injuries from Skechers Toning Shoes, you may want to speak with a personal injury attorney regarding a potential claim. An injury lawyer familiar with new developments in the shoes may be able to help you make important personal and legal decisions. d'Oliveira & Associates, P.C. is working with some of the most experienced defective product lawyers in the country who are handling these cases.
Please contact the law offices of d'Oliveira & Associates, P.C. at 1-800-992-6878 or fill out a contact form for a free legal consultation.
(i) http://ftc.gov/os/caselist/1023069/120516skecherscmpt.pdf
(ii) http://www.ftc.gov/os/caselist/1023069/120516skechersexh1-8.pdf
(iii) http://www.businessinsider.com/the-11-worst-lies-of-skechers-shape-up-campaign-2012-5?op=1
(iv) http://ftc.gov/os/caselist/1023069/120516skecherscmpt.pdf
(v) http://www.ftc.gov/opa/2012/05/consumerrefund.shtm