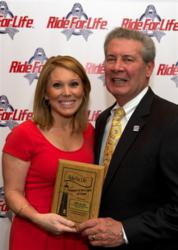 Hauppauge, NY (PRWEB) April 03, 2013
Robert G. Allen, President and CEO of Teachers Federal Credit Union (TFCU), was honored at the Ride for Life's 16th Annual Kickoff and Honoree Recognition Gala.
Ride for Life, a not-for-profit founded in 1998 by patients, caregivers and those who care about people living with Amyotrophic Lateral Sclerosis (ALS), better known as Lou Gehrig's disease, held their annual gala on March 20 at Lombardi's on the Sound in Port Jefferson, NY. The 2013 honorees are supporters of Ride for Life's mission to raise research funds to find a cure for ALS, to support patients and their families and to raise awareness and provide the community with the latest ALS news, information and inspiration.
"I am grateful and proud of the relationship between TFCU and The Ride for Life. Because of Mr. Allen's support for the mission to combat ALS, patients on Long Island will be better served and their suffering eased. Patients across the country will benefit from the increased research TFCU has made possible. Mr. Allen got this award the old fashion way, he earned it", said Chris Pendergast.
"TFCU is proud to have partnered with Ride for Life to help support their long-standing commitment to improving the well-being and health of ALS patients. We congratulate Ride for Life for its success in providing the critical services needed by those stricken with this debilitating disease. I look forward to continuing our partnership for many years to come," said Robert G. Allen, TFCU President/CEO.
As long standing supporters of the Ride for Life, TFCU staff members have participated in the Ride for Life Celebration & Remembrance Ceremony held at Stony Brook University. In addition, our Selden and South Setauket branches have each served as a pit-stop for Ride for Life founder, Chris Pendergast, and his team as they journey for 12 days across Long Island, trekking from Montauk to Manhattan.
###
About TFCU:
Teachers Federal Credit Union (TFCU), one of the country's largest credit unions, is a full-service, not-for-profit financial institution. TFCU was founded on Long Island in 1952 and now has over $4.7 billion in total assets, serves more than 227,000 members and has 23 full-service branches throughout Suffolk County including: Amityville, Bay Shore, Brookhaven National Laboratory, Central Islip, Commack, East Northport, Entenmann's, Farmingville, Hauppauge, Holbrook, Huntington, Nesconset, North Babylon, Oakdale, Port Jefferson Station, Riverhead, Rocky Point, Selden, Shirley, Smithtown, South Setauket, and Stony Brook University (2). Members also have access to services at more than 4,900 shared service centers located across the country. TFCU offers financial services to all people and businesses located in Nassau and Suffolk counties (excluding the townships of Southampton, East Hampton and Shelter Island). More information is available about TFCU by visiting http://www.teachersfcu.org or by calling (631) 698-7000.