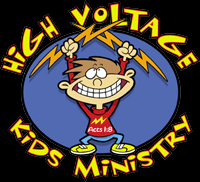 This is such a blessing. It's not easy to run a ministry on a tight budget. I appreciate that they are always thinking of us, trying to make things easier." - David Dilly
North Little Rock, AR (PRWEB) April 01, 2013
Churches are under tremendous financial strain in this age of the struggling economy. Children's Ministry budgets are often the first to get cut. That's what motivated High Voltage Kids Ministry to launch a special promotion for their customers.
High Voltage Kids Ministry is offering a discount to their customers on April Fool's Day. The 50% discount on the entire order can be accessed by entering the coupon code "nofooling" during checkout.
"This is such a blessing," says David Dilly, a Kids Minister and faithful High Voltage Kids customer. "It's not easy to run a ministry on a tight budget. I appreciate that they are always thinking of us, trying to make things easier."
This offer will end at midnight on April 1, 2013.