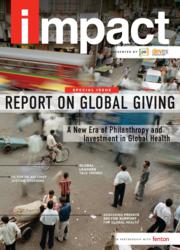 Traditional labels such as 'donor' and 'recipient' are less defined in today's rapidly changing landscape of
philanthropy and investment for global health.

Karl Hofmann, President and CEO of PSI
Washington, DC (PRWEB) April 02, 2013
PSI and Devex, in partnership with Fenton, released a special issue of PSI's Impact Magazine that explores how changes in the philanthropy and investment landscape are creating new, innovative avenues to solve global health challenges.
The report, "Global Giving: A New Era in Philanthropy and Investment in Global Health," examines emerging trends in global giving across several donor categories: governments in high-, middle- and low-income countries; corporate and private foundations; as well as impact investors and other emerging sources of funding.
"Traditional labels such as 'donor' and 'recipient' are less defined in today's rapidly changing landscape of philanthropy and investment for global health," said Karl Hofmann, President and CEO of PSI, a global health organization. "This report explores major shifts in giving and identifies ways that non-traditional stakeholders and donors are coordinating and aligning efforts to create shared value partnerships that maximize impact."
Statistics and trends identified in the report include:

The top 5 countries which currently invest the most money in global health are the United States, the United Kingdom, Canada, Germany, and Japan, respectively.
The top 5 countries which spend the most on global health as a percentage of their GDP are Luxembourg, Ireland, Norway, Sweden, and the United Kingdom, respectively.
Development assistance for health grew 200% from 2001-2008, despite the economic downturn.
Non-communicable diseases, like cancer, make up more than half of the global disease burden but only receive 1 percent of global health funding.
China, an emerging economy, spends $398 billion dollars on domestic health programs – yet at the same time also provides $3.9 billion in overall foreign aid to countries in Africa, Asia, and Latin America.
Corporate donations to global health rose consistently every year from 2006 – 2010, again despite the economic climate. In fact, in 2010, 68% of U.S. corporations that reported a decrease in profits also increased their total giving.
"The data in this report suggest that we are likely to see donors focus more on creating the health infrastructure needed to attract outside investment," said Raj Kumar, President and Editor-in-Chief of Devex, the largest online platform for international development professionals. "Ultimately, the global development community will benefit from a more investment-oriented approach to global health, just as it will in other areas."
Coinciding with the launch of the report, PSI and Devex, in partnership with Fenton, will bring together executives, thought leaders, and academics at the Newseum in Washington, D.C., on April 2, 2013 to discuss the future of global giving. PSI will live tweet from the event and invites others to join the conversation at #GHFunding.
To download the report, please visit: http://psiimpact.com
To watch a livestream of the launch event and view a list of panelists, please visit: http://blog.psiimpact.com/globalgiving
About Impact Magazine and PSI
Impact is the signature magazine of PSI, a global non-profit organization dedicated to improving the health of people in the developing world by focusing on the serious challenges like a lack of family planning, HIV/AIDS, maternal health, and threats to children under five, including malaria, diarrhea, pneumonia and malnutrition. Impact is a platform to discuss critical issues facing the global health community. The magazine is produced quarterly and reaches 90,000 readers in more than 60 countries worldwide. http://www.psi.org
About Devex
Devex is a membership organization delivering business information and recruiting services to the international development community, connecting relief and development professionals to a dynamic network of information, people and ideas, and enabling them to have more impact for more people. http://www.devex.com
About Fenton Communications
Fenton opened its doors in 1982 to create issue campaigns that serve the public interest. We have been part of some of the defining movements of the past quarter century, from ending apartheid to curbing global warming. Today, Fenton is the largest social change communications firm in the United States with offices in New York, London, Los Angeles, San Francisco, and Washington, D.C. Fenton combines decades of expertise with creativity and innovation to accelerate progress on today's most pressing global and national issues. http://www.fenton.com