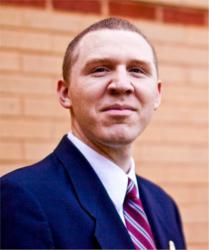 Alma is a true technology innovator and staunch defender of our nation's security.
Jim Leto, RG CEO
Alexandria, VA (PRWEB) April 01, 2013
Robbins-Gioia, Inc., the leading provider of program management and performance optimization services, today announced the appointment of Alma R. Cole as vice president of Cyber Security. Cole most recently served as the Chief Systems Security Officer (CSSO) for U.S. Customs and Border Protection (CBP) and Department of Homeland Security (DHS).
"Alma brings an extensive background to RG; he has been on the front lines leading the defense of major organizations against cyber attack, was pivotal in the creation of cyber security strategies across DHS, and is recognized as one of foremost thought leaders in the industry," said Jim Leto, RG CEO. "By his accomplishments and character, Alma is a true technology innovator and staunch defender of our nation's security. He will be a great asset to our organization."
"Recent years have seen an alarming rise in cyber threat activity designed to disrupt our country's critical infrastructure and steal sensitive information from both the U.S. government and private sector," said Cole. "My goal as leader of RG's Cyber Security practice is to integrate my knowledge and technical expertise with RG's people and processes to help our clients address these challenges with an effective and comprehensive cyber strategy. Our team's direct support of and shared vision with our clients will develop strategic priorities and architectures to provide resiliency against cyber attack and espionage."
As the CBP's CSSO, Cole was responsible for the information security strategy and security architecture. Prior to his role as the CSSO, he led the Department of Homeland Security (DHS) Security Operations Center, responsible for cyber incident response and continuous security monitoring of the DHS trusted internet connections, DHS OneNet wide area network, and CBP systems and networks. Cole has been recognized with the Rising Star Award for his efforts to implement a program to provide greater insight into ongoing cyber threats at DHS. In addition, Cole established the cyber security solution framework for DHS's entry into cloud computing as well as the CBP mobile application strategies across the enterprise. He holds an MBA with an emphasis in information assurance from Idaho State University, a BS in business information systems with an emphasis in e-Commerce from Utah State University, and is a Certified Information Systems Security Practitioner.
"Alma is a rare talent with leading-edge experience, and we have immense confidence in his vision, leadership, ingenuity, and persistence," said Christopher E. Heath, RG CTO. "Our practice looks forward to leveraging Alma's expertise in helping our customers bridge security performance gaps by implementing state-of-the-art, risk-based, intelligence-driven, and cost-effective cyber security solutions, service, and operations."
About Robbins-Gioia, Inc.
An acknowledged leader in independent program management, RG's comprehensive range of professional services enables us to design and deliver customized solutions to address our clients' most challenging requirements. Headquartered in Alexandria, VA, we deliver groundbreaking management solutions to public and private sector clients across the globe. RG's professionals strategically leverage people, processes, and leading technologies to help clients achieve desired performance outcomes and overall program success. For more information, please call 800-663-7138 or visit http://www.robbinsgioia.com.