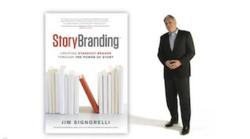 Chicago, Illinois (PRWEB) April 02, 2013
Jenkins Group is proud to announce that the book, StoryBranding: Creating Standout Brands Through The Power of Story, by Jim Signorelli, CEO of eswStoryLab, was awarded the Axiom Gold Medal in the Advertising/Marketing category.
Axiom Business Book Awards honors the best business books published during the past year.
Drawing on "story logic," StoryBranding was created to help big, small or personal brands establish or revitalize their identities in order to stand out among competitors. At its core is a working model that approaches the brand as the story's protagonist that must surmount certain obstacles in order to achieve a lasting relationship with consumers.
StoryBranding describes both a marketing philosophy and a planning approach that is practiced at eswStoryLab, a Chicago-based advertising agency. Growing out of a three-year research project, the book presents a number of unique tools that marketers can use to arrive at their brand's "inner layer," the authentic belief and value system that will resonate most with prospects. Following the 6C's method that is prescribed in the book, one is able to create a StoryBrief. This is a tool that replaces the traditional creative brief and one that helps everyone associated with a given brand become more immersed in the brand's authentic story.
On the cover of the book is a blurb from Annette Simmons, best selling author and renowned expert on the subject of story. She writes,"It is almost too good to be true that this book has finally been written. Jim Signorelli blends years of wisdom with the magic of story in a format that is so accessible it makes me cry that I didn't have it twenty years ago."
Dennis Dunlap, CEO of the American Marketing Association adds, "All marketers should read Jim's book, especially those who haven't embraced storytelling. It not only drives home the efficacy of storytelling, but also offers a road map for leveraging this tool to uniquely communicate the human essence of a brand. Thought provoking and useful book."
"I am obviously very pleased and humbled by this award," says Signorelli. "What started out as a manual to help our people become more adept at brand planning has resulted in two things I hardly expected, a book, and then this award."
StoryBranding is currently a bestseller in the Marketing/Advertising category on Amazon and is available at most bookstores. It can also be ordered directly by going to http://www.jimsignorelli.com. A short introductory video on the subject of StoryBranding is available at http://bit.ly/143s4q3