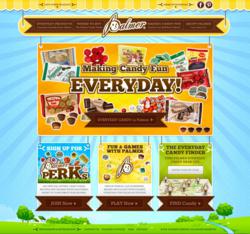 Most of Palmer candy retails for under $2.00 making it an affordable, sweet option for candy lovers everywhere.
Reading, PA (PRWEB) April 02, 2013
R.M. Palmer Company is continuing its mission of "Making Candy Fun™" with a new website featuring their Everyday candy collections of America's favorite everyday confections. After launching their Easter-themed website in February, the Everyday-themed website will offer consumers the latest information on new products, promotions, Palmer inspired recipes and more. The Candy Finder, which directs visitors to the nearest retailer carrying Palmer candy, remains one of the website's most convenient features. One highlight of the company's first non-seasonal themed website include fun, candy-centric games like "Candy Match", "Chocolate Break" and "Bunny Catch."
Well known for being the largest producer of chocolate bunnies in the world, Palmer expanded its candy offerings to entice non-seasonal consumers. "The ever-growing "Everyday" segment for Palmer offers candy lovers classic indulgences like Peanut Butter Cups, Peppermint Patties, Cookies & Crème and Double Crisp Bars, all at a value consumers can appreciate," said David Abramson, Director of Sales & Marketing for R.M. Palmer. Abramson continues, "Most of Palmer candy retails for under $2.00 making it an affordable, sweet option for candy lovers everywhere." Retailers partnered with Palmer Everyday candy include nearly 35,500 U.S. locations.
In addition to providing value, Palmer's new website gives users an enhanced content rich experience that makes it easy to share pages and other Fun Stuff from Palmer across popular social media platforms. Fun Stuff includes the confectioner's most recent promotion that gave away an Apple® iPad mini to one lucky member that signed up for Palmer Perks, a loyalty program where consumers receive special offers year-round. The Everyday launch is considered to be the second phase in the company's year-long marketing efforts to engage consumers with the Palmer brand online.
Palmer's new Pinterest page is an extension to increasing brand engagement and interaction online. Featuring pin boards loaded with recipes and crafts inspired by Palmer, contests and other surprises. Facebook remains Palmer's primary social media outlet with over 2,500 Likes and growing.
About R.M. Palmer Company
R.M. Palmer Company has been crafting fun, seasonal chocolate novelties since 1948. Today, the R.M. Palmer Company is considered one of the top 75 confectioners in the world. From their headquarters in West Reading, PA, Palmer's 850 dedicated employees design, produce, package and ship more than 500 unique items to nearly 100,000 retail locations in North America – making it one of America's largest and most innovative confectioners. For more information about R.M. Palmer Company, visit http://www.rmpalmer.com.